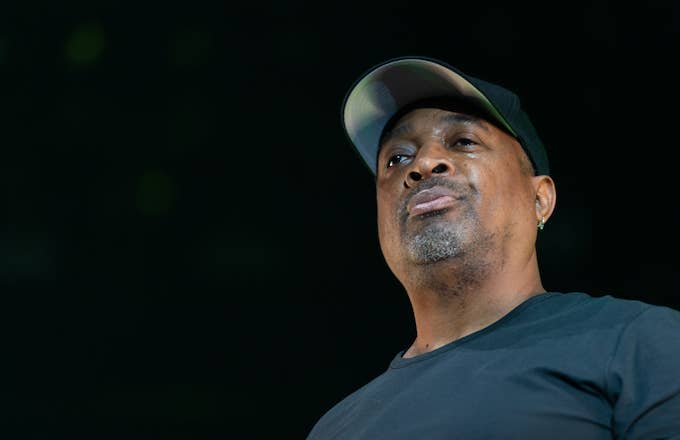 On Tuesday, the Public Enemy Chuck D took aim at two daytime TV heavy-hitters: Maury Povich and Jerry Springer. The outspoken artist/activist blasted the tabloid show hosts for exploiting the misfortunes of their guests, many of whom are young black people. Chuck D even went so far as to suggest people like Povich and Springer were being paid by the federal government to depict minorities in such a negative light.
"Just how much the fed$ pay these old white dudes like Maury & Jerry showtiming young folks dysfunctional sht on Air ...especially young blacks," he tweeted. "Beware of elder media Nucointelpro buzzards hovering. Everything ain't entertainment in fact it's exploitation."
The message was accompanied by a photo of a recent Maury segment titled, "My wife admitted to cheating ... are these my children." The image showed a black man and woman sitting on the Maury stage, with two photos of the children in question were displayed in the background. 
Maury's eponymous talk show has faced plenty of criticism since it transitioned from serious news topics to tawdry, mean segments that perpetuate racist stereotypes. Maury has covered a wide range of subjects such as out-of-control teens, extreme and unusual phobias, makeovers, and infidelity; however, it is most known for its paternity tests episodes, in which women appear on the show to find out who is their children's biological father. The dramatic reading of the DNA results is followed by even more dramatic reactions, which range from tears to screams to breakdancing.
In an effort to further capitalize on its signature paternity test readings, Maury will roll out an adult board game called "You Are Not the Father." Per NBC Universal's description: "'The Maury Game: You Are Not the Father' will allow players to clear their name, Maury-style, with this hilarious party game for adults. The game challenges players to prove their non-paternity through a series of outrageous accusations and laugh-out-loud arguments."
The game is available for pre-order on Amazon, and is set to drop Nov. 27, but like, don't buy it.