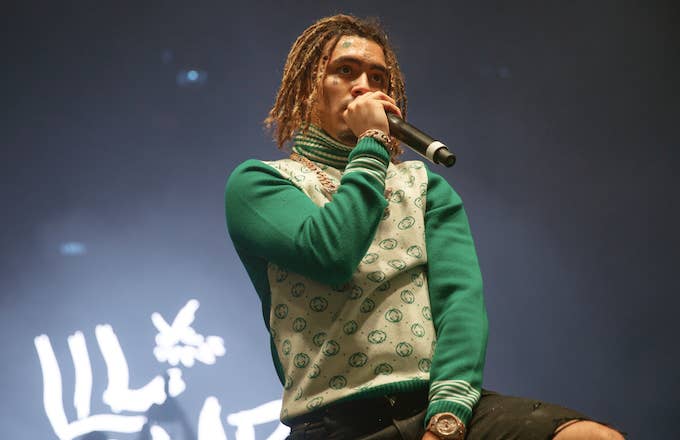 Chinese rappers are coming for Lil Pump.
Earlier this week, the Miami artist sparked outrage after teasing a record presumably called "Butterfly Doors." Pump previewed the song in a 40-second video in which he lip-synced the line, "Butterfly door, they call me Yao Ming cause my eyes real low, ching chong." The latter term has taken on a pejorative meaning, as its commonly used to mock people of Asian decent; however, the controversy didn't end there. While delivering the lyrics, Pump pulled the corner of his eyes to make them appear slanted. Monstrously stupid and offensive.
After Pump was justifiably called out on social media, a number of Chinese rappers have released diss tracks aimed at the 18-year-old. CD Rev, a Chinese hip-hop group, released a record bluntly titled "F**k Lil Pump," in which Li Yijie raps: "The fact is you and white racists the same/Respect yourself, you've suffered the pain/You don't know anything 'bout the history/'Cause you a nation of immigrants, and if you really won't take it serious, check it out on those Indians." 
Li Yijie, a.k.a. Pissy, spoke about the English-language diss track in an interview with South China Morning Post.
"My first reaction was anger," he said about Pump's teaser. "Not only were the lyrics insulting, he made the face gesture, the whole package. It means that he understood what it meant—understood that it is discriminatory language. It's quite irresponsible."
Other artists like PG One, Lil Andy, AnsrJ, and Viito have also taken aim at Pump:

One of the first Chinese rappers to criticize Pump's racist behavior was China Mac, who demanded the teaser be taken down.
In response to the controversy, Mac has encouraged other Asians to take a stand and participate in his "Asian Pride" video shoot that is set to go down this week in New York.