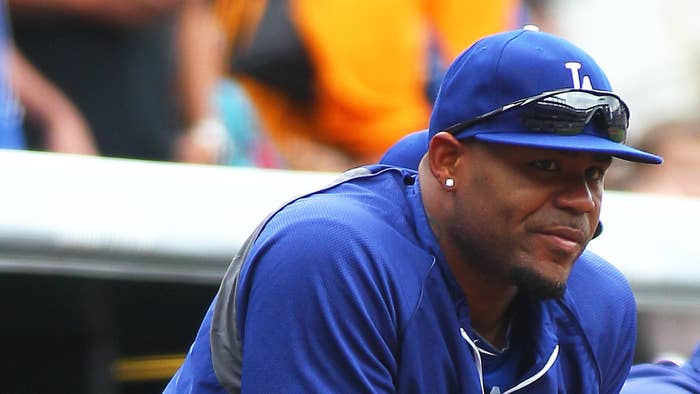 Carl Crawford is speaking out against Megan Thee Stallion's recent lawsuit, in which she accuses the former MLB star of conducting shady business.
On Sunday, Meg shared a video in which she claimed Crawford and his 1501 Certified Entertainment were preventing her from releasing new music. The Houston artist signed a 360 deal but says she "didn't know everything that was in that contract" because she was so young. Meg claimed that under her 1501 deal, the label takes 60 percent of her recording income, 30 percent of her touring income, and 30 percent of the profits from merchandise sales. She said she attempted to renegotiate the deal after her management at Roc Nation pointed out some of the terms.
"So when I got with Roc Nation, I got management — real management — and real lawyers. They were like, 'Do you know that this is in your contract?' And I was like, 'Oh, damn, that's crazy — no, I didn't know,'" she said. "... Soon as I said, 'I want to renegotiate my contract,' everything went left. It all went bad. It all went left. So now [1501] tellin' a bitch she can't drop no music. It's really just, like, a greedy game."
Meg filed a lawsuit against the label and Crawford on Monday, alleging the 1501 contract was "not only entirely unconscionable, but ridiculously so." A judge has since ordered Crawford and his company "to do nothing to prevent the release, distribution, and sale of [Meg's] new records." Crawford, however, claims Meg's lawsuit is full of lies.
"She just has so many holes in her story, and it's almost on some delusional type stuff," he told Billboard. "The bubble of Hollywood and her 8 million followers has really clouded her head, because the stuff that she's saying is not true. It's a whole lie. Nothing is true that she said. Me being greedy and taking money from her, that's crazy. I never tried to take nothing from her. The only thing we ever did was give, give, give. Now, she fell for the oldest trick in the industry: the conquer and divide theme."
Crawford went on to say Meg's deal was put together by her late mother and his business partner T. Farris, who allegedly "handled all the business." 
"T. Farris is the one. Her mom did the contract," Crawford said. "I'm new to the business. I let this guy T. Farris run my whole business, because I knew absolutely nothing about it. Zero. So he wrote your contract up. I didn't do it ... She got the dude [T. Farris] right up under her. He's the snake. He did the contract. They had the lawyers. How didn't you read your contract? She signed two contacts. You signed one with me and 300 [Entertainment]. You mean to tell me, you, your mama and your lawyer didn't read over that stuff every time? Stop lying. You wasn't 20, you were 23 years old. You was a grown up. You're just a liar."
Crawford acknowledged that under the deal, 1501 takes 60 percent of Meg's recording income, while Meg takes the rest; however, he expressed skepticism over the claim that Meg's 40 percent was also used to pay contributors, like producers, mixers, and featured artists.
"Nah, I don't think that's true either ... It's a great deal," he said. "She wants to talk about a bad deal — she's disrespecting her mother by saying that, because her mother and T. Farris are the ones who did it. Those two worked out the deal with the lawyer. I didn't even have nothing to do with it."
As for the label's 30 percent cuts from Megan's tours and merch? Crawford also acknowledges that those were the terms, but reiterates the deal was good—much better than what JAY-Z's Roc Nation would've offered.
"We gave this girl a 60-40 split. Now go ask the artist about that. She got parts of her masters [the] first time. You think JAY-Z would have gave her part of her masters on her first deal with Roc Nation? Fuck no," he said. "Then, she's getting $100,000 a show and she don't want to pay up. That's what the issue was about. She signed with Roc Nation in August and decided she didn't wanna pay me no more."
He continued: "They're using that as a strong-arm tactic so that I can renegotiate the contract. They're holding the money, and they haven't paid me since August. She done over 15 shows. Y'all do the math. She gets $100,000 a show. She owe me, and I haven't recouped almost $2 million that we spent on her, building her up so that Roc Nation would wanna come [around]. Where was Roc Nation at when we was grinding and riding around on them backstreets? Roc Nation was nowhere to be found. Soon as we spent our money, blow it up, now all of a sudden, these strangers and people you just met — they introduce you to Beyoncé and now we the devil? We were just the angels sent from the sky. Now, we're the devil just because Jay-Z saved you. You're so fake."
Meg also said she's only received $15,000 from the label, despite generating about $7 million from streams. Crawford claims he has evidence that proves otherwise.
"How she been paid $15,000? As soon as we signed to 300, I wrote her a check for $50,000, and it's signed with her name on the check," he said. "We can show you the proof. That's another thing — I got all my receipts. They know it. I got all the receipts. We gave her a $10,000 advance when we first signed her and gave it to her mother. I don't know what happened [with that]. 300 gave us a $200,000 check when we first signed. I gave her $50,000 of it. I didn't have to give her that. That was mine at the time."
Meg, who is preparing to release debut album Suga, is asking the court to nullify or terminate her 1501 contract. She's also seeking more than $1 million in damages.