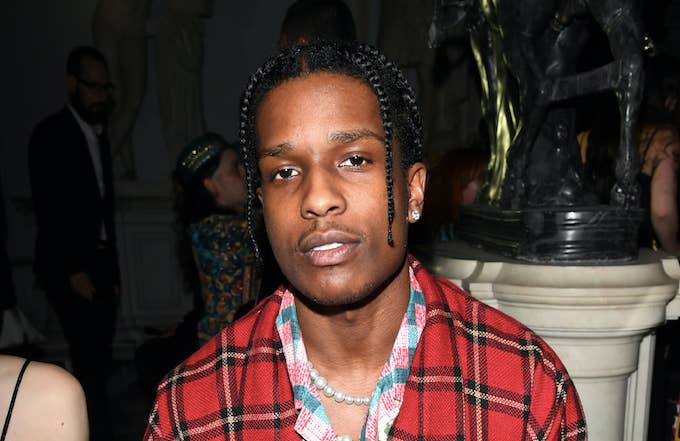 New details about ASAP Rocky's assault case have come to light.
The Harlem rapper was detained this month after he and his associates were allegedly filmed fighting two individuals in Stockholm, Sweden. On Friday, Swedish authorities announced that the two men—whom Rocky accused of instigating the June 30 fight—were under investigation for suspected assault and molestation.
"The preliminary investigation continues regarding the American artist who is detained by the Stockholm District Court in Sweden on suspicion of assault in Stockholm," The Swedish Prosecution Authority announced in a press release. "There is also a preliminary investigation in the case concerning the aggrieved party who is suspected of molestation and assault." 
Swedish authorities told Page Six that the "aggrieved party" does not refer to Rocky, but the two men he and his crew are accused of assaulting. Officials also clarified that the suspected molestation is not sexual in nature, as the term is used to describe a crime in which a suspect "physically attacks someone or exposes someone to disruptive contacts or exposes someone to other ruthless actions."
Officials added, "the penalty for molestation is fines or imprisonment for a maximum of one year."
Rocky will remain behind bars until July 19, at least. That's when Swedish prosecutors "must decide whether to file a prosecution or ask the court for a longer detention period in order to finalize the investigation."
Since Rocky's detainment, his fans and fellow artists have called for his release. There is also an online petition called #JusticeForRocky, which urges Swedish authorities to free the rapper from the detention center and its "inhumane conditions." Rocky's attorney insists, however, his client is being "treated properly" while in custody.