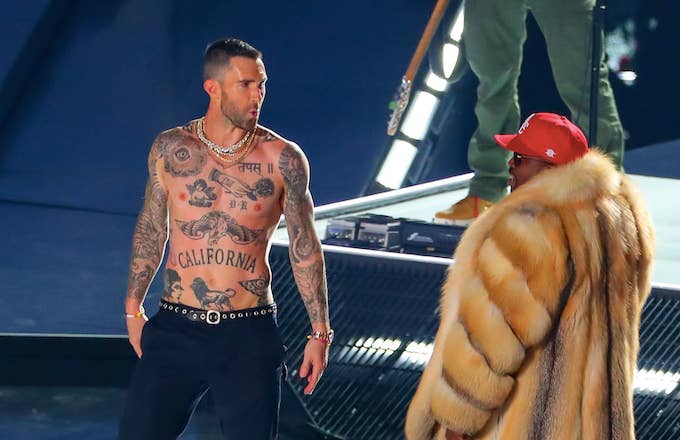 Let's talk about nipples. During this year's Super Bowl halftime show, Maroon 5 frontman Adam Levine decided to get half-naked and bare his chest to millions of viewers. This stunt likely wouldn't have been a problem had it occurred on any other stage, but because of the Super Bowl's history of nipple-related scandals, some audience members were quick to criticize FCC for not putting its foot down—you know, like they did when Janet Jackson's nipple was briefly exposed. 
According to the Hollywood Reporter, the U.S. agency received more than 50 complaints about Levine's little strip show during Maroon 5's performance. Many pointed out the male-female double standard when it comes to bare flesh in public.
As you probably remember, Jackson's career took a major hit after she experienced a "wardrobe malfunction" during the 2004 halftime show with Justin Timberlake. FCC fined CBS $550,000 for the incident (the fine was later overturned) and received more than half a million complaints about Jackson's nipple. It's also important to note Timberlake was the one who pulled off part of Jackson's outfit, thus exposing her right breast. He walked away from the scandal without any major repercussions and returned to perform at last year's Super Bowl.
"Seeing Adam Levine's nipples was repulsive," an FCC complaint read. "Also the fact that there hasn't been an immediate backlash like the Janet Jackson incident is disturbing and sexist."
"I had to see some tattooed guys nipples on TV with my family. It was not right," another viewer wrote. "How come when a black woman does it it isn't for the family but it's okay if some tattooed white guy does it it's okay? Janet Jackson should be issued a formal apology and Adam Levin [sic] should issue a formal apology for showing his nipples and horrible tattoo choices on live television."
THR reports the FCC also received almost two dozen complaints from families who were upset their children had to watch a trailer for Jordan Peele's Us. A preview for the upcoming horror film appeared as a Super Bowl ad.