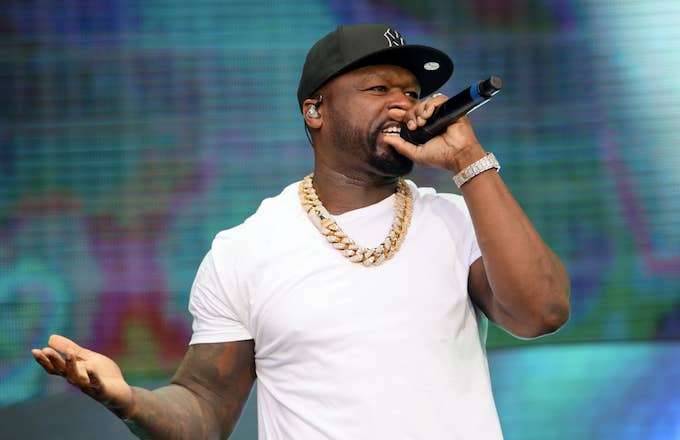 UPDATE 12/13, 10:17 p.m. ET: Russell Simmons took to IG to respond to news that Oprah is producing a documentary on sexual assault allegations against him. In the post, Simmons denies the allegations against him and calls it "troubling" that Oprah "choose me to single out."
"Dearest OPRAH, you have been a shining light to my family and my community. Contributing so much to my life that I couldn't list a fraction of it in this blog.Ihave given you the gift of meditation and the groundbreaking book "THE POWER OF NOW" we bonded to say the least," Simmons started. "This is why it's so troubling that you choose me to single out in your recent documentary. I have already admitted to being a playboy more (appropriately titled today "womanizer") sleeping with and putting myself in more compromising situations than almost any man I know." You can read his post in full below.
See original story below. 
50 Cent may have reignited his beef with Oprah.
On Thursday night, Fif took to Instagram to call out the media mogul over her upcoming #MeToo documentary that focuses on Drew Dixon—one of the women who has accused Russell Simmons of sexual misconduct. The film, directed by Kirby Dick and Amy Ziering, is described as "...a profound examination of race, gender, class and intersectionality, and the toll assaults take on their victims and society at large," the Los Angeles Times reports. Oprah is listed as one of the documentary's producers.
50 accused Oprah of only targeting alleged sexual predators who are black, while remaining silent on high-profile predators who are white. The rapper/actor also referenced Oprah's controversial interview with Michael Jackson's accusers Wade Robson and James Safechuck. The sit-down was broadcast following the premiere of HBO's Leaving Neverland, which explored the longstanding molestation accusations against Jackson.
"I don't understand why Oprah is going after black men. No Harvey Weinstein, No [Jeffrey] Epstein, just Micheal Jackson and Russell Simmons," 50 wrote on Instagram.
He then turned his direction to Gayle King, Oprah's close friend who conducted a televised interview with R. Kelly amid renewed outrage over his alleged sexual abuse. 
"This shit is sad. Gayle hit R Kelly with the death blow documentary. Every time I hear Micheal Jackson I don't know whether to dance or think about the little boys butts," he wrote. "These documentary's are publicly convicting their targets, it makes them guilty till proven innocent."
50 followed up the post with an image that featured photos of celebrity men who have been accused of sexual misconduct. The image showed Epstein, Weinsten, Kevin Spacey, and Donald Trump with the word "walk" written across their bodies; photos of Bill Cosby and Kelly were included in the post with the word "jail."
The G-Unit boss and Oprah have had a rocky history. In 2012, the two sat down to squash a years-long beef which apparently started after Oprah criticized the lyrics in rap music.
50's messages were shared just one day after Weinstein reached a $25 million tentative deal to settle a sexual misconduct case. The disgraced movie producer, who has denied all allegations against him, is still facing life in prison for sex-crime charges in Manhattan.