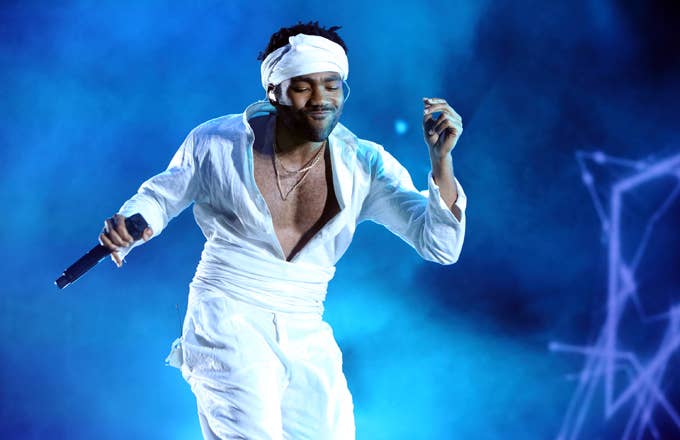 We don't need Childish Gambino anymore. 
On Saturday, during his headlining Governors Ball set, Donald Glover told the crowd at Randall's Island in New York, "I'll see you for the last Gambino album."
It has been nearly a decade since Glover pulled the rap moniker Childish Gambino straight from a Wu-Tang name generator. In the time since, his music has developed from cringe-worthy, Wayne-worshipping punchlines to Funkadelic-inspired ballads about love, fatherhood, and blackness. The rise of Gambino has been unexpected, unpredictable, and ultimately rewarding—the success of Donald Glover even more so. The arrival of the Golden Globe-winning Atlanta turned Glover into critical and commercial Teflon. Soon we'll be hearing Donald voice a new Simba, play Lando Calrissian in the Han Solo spinoff movie, drop into the next Spiderman movie, and co-create an animated Deadpool TV series. If this round of success is the culmination of years of creative ambition, it makes sense that Glover's most divisive creation is coming to an end.
In a world that now belongs to Donald Glover, there seems to be less room for Childish Gambino, both logistically and creatively. For a short time, Childish Gambino was a case study in how the internet can strengthen, pervert, bolster, and redefine the black experience. It is the mistakes, missteps, breakthroughs, and ultimate triumph of Gambino that made a show like Atlanta possible. 
The first half of Gambino's existence felt like tongue-in-cheek performative shtick built on the obvious premise that black nerds exist and that they could rap about things like canceled Judd Apatow shows, Band of Outsiders, and…Asian women (oof). In 2009, Jay Z and Beyonce attending a Grizzly Bear show was sold by music media as a sort of cosmic shift—white readers in amazement that black people could have taste. Gambino entering this landscape rapping over a Grizzly Bear instrumental was perfectly ironic.
The appeal of early Childish Gambino was Glover's nerdy sincerity. His rapping revelled in its own absurdity, a joke that wasn't really a joke. It wasn't until his 2011 debut album, Camp, where Gambino took on Glover's autobiographical plight growing up a nerdy black pariah. In Glover's quest to stake a claim to his blackness by detailing the scars of his past, his music became angry, bitter even. The pop culture punchlines remained, but this time they were cut with juvenile acidity.
On Camp'sopener, Glover clumsily rapped, "And I just wanna fit in, but nobody was helping me out/They talking hood shit and I ain't know what that was about/Cause hood shit and black shit is super different." I found that line thought-provoking as a black college kid. The line itself wasn't, and isn't, but did speak to a middle-class paranoia about the meaning of blackness that makes sense to a teenager, but dissolves under heavy scrutiny. Fast forward to an album like 2016's Awaken, My Love and Glover's message had become more refined. Lyrics like, "If you point a gun at my rising sun/Though we're not the one/But in the bounds of your mind/We have done the crime," from "Boogieman" are still heavy-handed, but more succinct, direct, poetic. Over time Donald Glover got better at reflecting the nuances of the black experience—look at Atlanta episodes like "B.A.N.," "Value," and "Juneteenth"—and that is partially owed to the constant experimentation of Childish Gambino (and what's possible with collaboration). 
The script for Because The Internet reads like a rough draft for what Atlanta would become.
That's why it makes sense for Childish Gambino's career to end where it truly began, with The Boy. The long and convoluted narrative begins on Camp's outro, "That Power," with Glover narrating the story of a 13-year-old who professes his love for an unrequited crush on a bus ride home from camp. The girl rejects him and the album closes with a monologue from Glover: "I wish I could say this was a story about how I got on the bus a boy and got off a man more cynical, hardened, and mature and shit. But that's not true. The truth is I got on the bus a boy. And I never got off the bus. I still haven't." 
Over the next two years, the story of The Boy grew increasingly existential. It unfolded across the rollout of Gambino's 2013 follow-up to Camp, Because the Internet; a video called "Clapping for the Wrong Reason"; and a 75-page screenplay that accompanied the release of BTI. We learned that the boy was now 28, his father was Rick Ross, he'd become a wealthy Twitter troll, and his friends he claims aren't really friends are named Swank, Steve, Marcus (played by Chance the Rapper), and AJ. Over the course of the screenplay, The Boy's dad dies, he falls in love with Naomi (played by Jhene Aiko), and becomes an inept drug dealer who potentially witnesses his own death. It's some sort of winding metaphor for Glover, what it means to grow up, and the ways the internet can simultaneously accelerate and impede that growth. 
The genius of Glover's Atlanta, where he plays the protagonist, Earn, has a lot in common with the semi-formed, non-linear, and sometimes unwieldy storytelling of Because the Internet. The script for BTI reads like a rough draft for what Atlanta would become. The Boy of Because the Internet and Earn of Atlanta are played with similar levels of angst and dejectedness by Glover. Watching "Clapping for the Wrong Reason," you realize how much of the acting and emotional delivery of the Boy transferred over to Earn. Even The Boy's story is the inverse of Earn's. Instead of a low level drug dealer with Rick Ross as a father, Earn is a deadbeat dad trying to turn his low level drug-dealing cousin Paper Boi into the next Rick Ross. 
Because the Internet characters like Swank, Steve, Marcus, AJ, and Naomi have striking similarities to Atlanta characters like Paper Boi, his stoner sidekick Darius, and the sweet, but fed-up mother to Earn's child, Van. The Because the Internet screenplay discusses and depicts police brutality, Justin Bieber, a universe where Lloyd is properly respected, and the looming threat of death in ways that were echoed in the best moments of Atlanta. 
We're almost five years removed from the fevered Instagram posts that revealed Glover's fears and anxieties scrawled on the notepad of a Residence Inn Marriott. Admissions like, "I'm afraid my show will fail," "I'm scared my girl will get pregnant at not the exact time we want," "I'm scared I'll never reach my potential," "I'm afraid people think I hate my race" were Glover's reality then. But not now. 
In a post-Governors Ball interview Donald Glover explained his reasoning for ending Childish Gambino: "There's nothing worst than, like, a third sequel, like a third movie and we're like, 'Again?' I like it when something's good and when it comes back there's a reason to come back, there's a reason to do that." The Childish Gambino project has fulfilled its mission statement. In the span of nine years Childish Gambino's The Boy, has become Donald Glover the man, because, and in spite of, the internet. 
The blogosphere, Twitter, and internet culture that created Gambino has changed fundamentally. Donald Glover will continue to create, and hopefully his music career will live on, but for it to match the heights of his other creative pursuits his first musical child needs to be laid to rest.