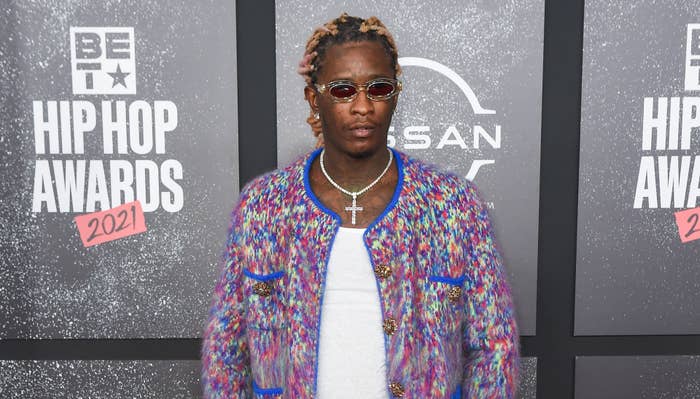 Young Thug has been hit with new charges as he awaits trial in the upcoming YSL RICO case.
WSB-TV reports the Atlanta District Attorney's office has charged Thug with street racing, reckless driving and speeding. The charges, which are all misdemeanors, stem from an incident in early May in which the Atlanta rapper was allegedly driving his vehicle at 120 mph on Interstate 85. He has been behind bars since May 9.
Brian Steel, an attorney for Young Thug, said his client is innocent of the charges. "As of two weeks ago, that case was being resolved with a seatbelt violation," Steel said in a statement. "Today, now it's indicted in the Fulton County Superior Court. He is being wronged by our system."
The YSL RICO trial—which involves Young Thug and Gunna, who were indicted on racketeering charges back in May—is scheduled to begin on Jan. 5, 2023.
A judge previously denied Fulton County District Attorney Fani Willis' request to delay the trial until March 2023, arguing that a postponement would "protect the rights" of the 28 defendants associated with the 56-count indictment since all of them "need to be tried together."
Thug, 31, has been charged with conspiracy to violate the RICO Act and participation in criminal street gang activity, while 29-year-old Gunna—who was detained two days after Thug—faces a charge of conspiring to violate RICO.
"He's committed no crime," Steel told WSB-TV of Thugger in a recent statement. "And Mr. Williams will do whatever he has to do and has done a great deal to try to have non-violence in our community. Mr. Williams is not the head of any criminal street gang, he's not involved in any type of criminal activity that involves any type of violence."