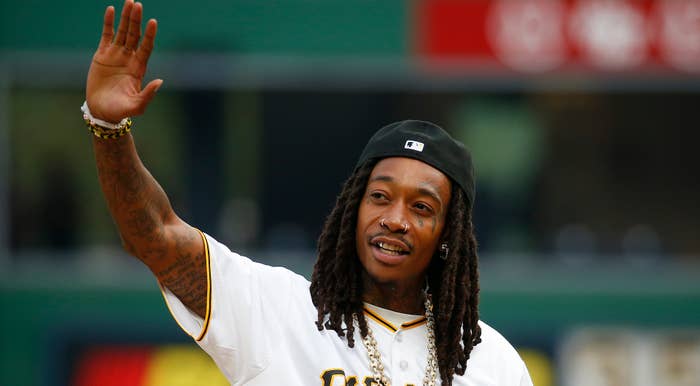 Wiz Khalifa threw out the first pitch on Monday at PNC Park ahead of the Pittsburgh Pirates' game against the Cleveland Guardians, and of course, the avid stoner didn't waste the opporunity to do it his way.
Wiz initially hopped on Twitter prior to taking the mound to reveal he was going to "get stoned af" before throwing out the first pitch. He subsequently mentioned that he was actually on shrooms.
"Finna get stoned af and throw this first pitch at the pirates game," Wiz wrote in one tweet, before adding that he was on shrooms for his moment on the mound. "Shroomed out throwin a baseball is crazy," he added.
Earlier this month, Wiz teamed up with Snoop Dogg, as well as Too Short, Warren G, and Berner for their High School Reunion Tour. The 33-city trek kicked off July 7 in Vancouver, and will make stops in Toronto, Brooklyn, and Atlanta, among many other cities, before wrapping in Irvine, California on August 27.
The tour arrives as Wiz and Snoop are preparing to release High School Reunion, the long-awaited sequel to their 2012 stoner flick Mac & Devin Go to High School.
Check out the full list of tour dates for Wiz and Snoop's High School Reunion Tour here.