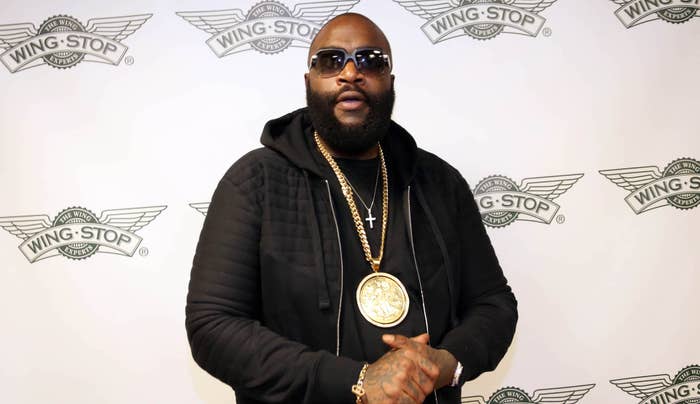 UPDATED 8/17, 3:54 p.m. ET: Rick Ross is taking responsibility.
On Wednesday, the MMG founder shared a series on Instagram stories in which he seemingly addressed the alleged labor law violations at his Wingstops. Ross admitted to failures, but suggested he would take steps to make things right.
"When you running a business, there will be mistakes, but as the biggest boss, you never make the same mistake twice," he said in the video. "You see, accountability, taking accountability when you're the biggest. And remember this: Most successful people don't take stumbling as a setback, but actually a stepping stone to greater things."
See the original story below.
Five Mississippi-based Wingstop locations operated by Rick Ross have been fined by the Department of Labor's Wage and Hour Division for several violations.
As reported by TMZ, the U.S. Department of Labor has collected $114,427 "in back wages, liquidated damage, and civil penalties" from five stores, all of which are owned by the Florida rapper's company Boss Wing Enterprises. The locations in question list Ross, his older sister Tawanda Roberts, and mother Tommie Roberts on the Boss Wings Enterprises LLC roster.
The DOL's Wage and Hour Division claims the stores made their employees illegally pay for uniforms, safety training, background checks, and even cash register shortages. In addition, the department says Boss Wing Enterprises is in violation of child labor regulations, as they found a 15-year-old illegally worked past 10 p.m. last summer.
"Restaurant industry employees work hard, often for low wages, and many depend on every dollar earned to make ends meet," Wage and Hour Division District Director Audrey Hall in Jackson, Mississippi, said in a statement. "The law prevents Boss Wing Enterprises LLC from shifting operating costs to workers…or to allow a worker's pay to fall below the minimum wage rate."
After a representative for Boss Wings declined to speak with Mississippi Today, the outlet got a hold of a spokesperson for Wingstop, who distanced the franchise from the Boss Wings-operated stores. 
"The restaurants investigated by the DOL are owned and operated by a franchisee, not Wingstop Restaurants Inc. Our franchise agreement requires all of our franchisees to operate under our operating standards, which requires compliance with all laws and regulations," Wingstop said. "We were not previously aware of the DOL action against Boss Wings LLC."