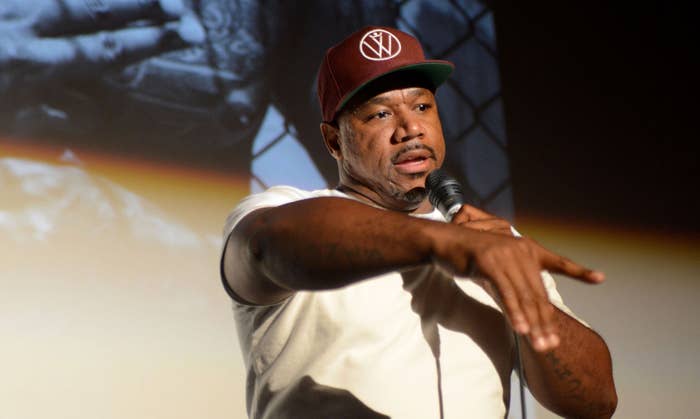 6ix9ine's business manager Wack 100 isn't shying away from discussing the Brooklyn rapper's money problems. 
Shortly after it was reported that 6ix9ine was "struggling to make ends meet," Wack confirmed that the 25-year-old rapper is struggling financially during a Clubhouse session.
"Yeah, he broke as a motherfucker," Wack explained. "That n***a 6ix9ine ain't got nothing! Man, that n***a over there doing bad. Bro, I had to send that n***a $20 for some gas. That's why we was telling the people, 'Ain't really nothing we can do for you right now cause n***a broke-broke.' It's fucking terrible, man. Sad thing to see such a talented young man [like this]."
As previously reported, 6ix9ine recently claimed that he is having financial issues in a sworn declaration to a judge overseeing a civil lawsuit for Tekashi's involvement in a 2018 armed robbery.
"Right now, I am struggling to make ends meet. I do not know if I will ever command the kind of advances I was paid before my arrest, and my career stalled," 6ix9ine said, per court docs obtained by Complex.
6ix9ine also said that his record deal with TenThousand Projects has expired, and with it a merchandise deal. 
"I did receive large advances under the recording artist and merchandising agreements prior to my arrest," the rapper stated in the docs. "However, I do not receive any royalties under those agreements either since my royalty accounts remain unrecouped."
6ix9ine went on to say that an unfavorable verdict in the case will leave him on the verge of bankruptcy. 
"It will surely bankrupt me in a way from which I will never recover to the permanent detriment and hardship of the family members who rely upon me," he the rapper stated.
Despite 6ix9ine's financial struggles, Wack maintains that he's officially the rapper's manager. During an interview with Complex that was published back in February, Wack explained what that job title entails.
"I got full control and say," he said. "It started off as a business partner situation, but I'm over his next project. He's still signed to Create [Music Group] and 10K, that's his label. I'm taking the reins on the management side to make sure everything is right, and the rollout is right. What he gets with me is a guy answering his phone calls and emails. He gets a guy that makes sure his marketing is right, his radio is right, his pub is right, his splits are right. And he gets the resources I have to open those doors up that may have been closed on him.