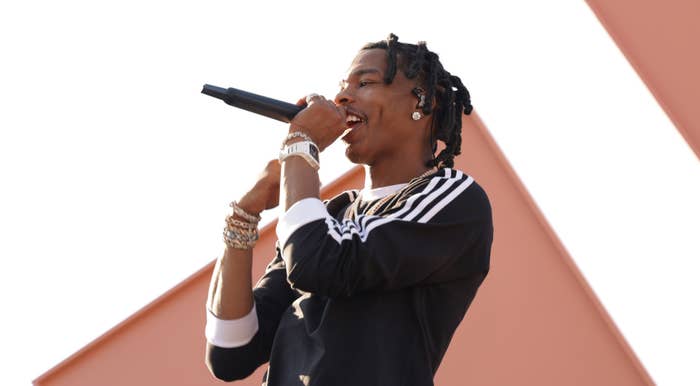 Lil Baby is getting roasted over a viral video in which the Atlanta rapper was working with an instructor at a shooting range.
On Sunday, a video circulated social media featuring Baby getting shots off at a gun range and struggling with the recoil. It didn't take long before fans of the My Turn artist roasted him for his form.
"That recoil is cooking him.. he gotta stop rapping about guns," one user wrote in the comments section of HotNewHipHop's tweet. Another reiterated a similar sentiment, writing, "Bro getting ate up by that recoil."
Meanwhile, one Twitter account questioned if Baby had ever fired a weapon, while another added, "Bruh that rifle got a buffer spring in it to help with recoil and he's still getting pushed back."
Elsewhere in the comments section, one person shared a photo of 2Pac, which is re-touched to show what the rapper might look like if he were alive to today, along with the caption: "Tupac if Baby was the shooter."
Nearly a year removed from the release of his last full-length offering, It's Only Me, Lil Baby has continued his momentum throughout 2023 on the strength of one-off singles like "Go Hard" and "Merch Madness," whiile also delivering guest features on songs from DJ Khaled ("Supposed To Be Loved"), Nardo Wick ("Hot Boy"), and Ciara ("Forever"), among others.
Check out some reactions to Lil Baby's gun range video below.