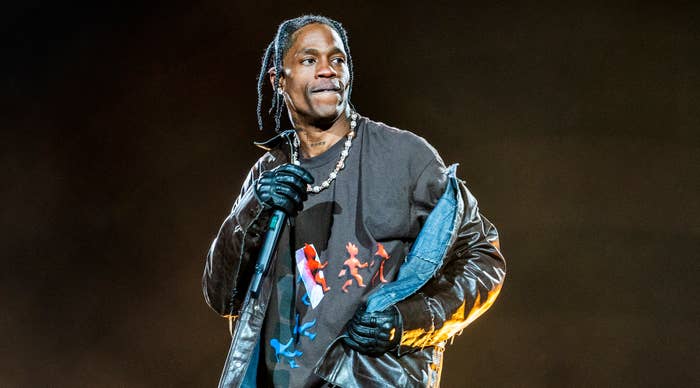 The Houston Police Department on Friday released its final report on the November 2021 tragedy at Travis Scott's Astroworld Festival, which left 10 people dead and hundreds injured.
The 1,266-page report includes wintess accounts, transcribed 911 calls, and more than 100 interviews conducted by detectives. Meanwhile, the report coincides with the release of Scott's new album, Utopia, which also arrived on Friday, nearly five years after the 32-year-old artist dropped his latest full-length offering, 2018's Astroworld.
As a result, the Houston rapper's attorney isn't happy about the timing of the HPD's report. In a conversation with TMZ, Kent Schaffer accused police of attempting to hurt album sales for Utopia.
Another rep for Travis has gone one step further, saying the HPD's decision to release the report on the same day as Utopia is "anything but coincidental."
"Travis Scott and his team were, as anticipated, fully cleared of any wrongdoing associated with the Astroworld tragedy by a grand jury based on the very report released today," the rep told TMZ. "It is outrageous that HPD has chosen to resort to tactics that attempt to discredit Travis and his team, casting doubt on how the unfortunate events at Astroworld actually transpired while deflecting blame from their own critical failures."
The statement concluded: "We encourage the Houston PD to make peace with the fact that Travis Scott and his team were found innocent of any wrongdoing and to focus on what really matters – making sure tragedies like Astroworld never occur again under their watch."
The extensive police report arrives a month after a grand jury declined to indict Scott on criminal charges relating to the disaster that took place at the Houston festival.
"Today's decision by the Harris County District Attorney confirms what we have known all along — that Travis Scott is not responsible for the Astroworld tragedy," Scott's attorney, Kent Schaffer, told People magazine in June. "This is consistent with investigative reporting by numerous media outlets and federal and state government reports that have squarely placed the onus for event safety crises on organizers, operators and contractors – not performers."