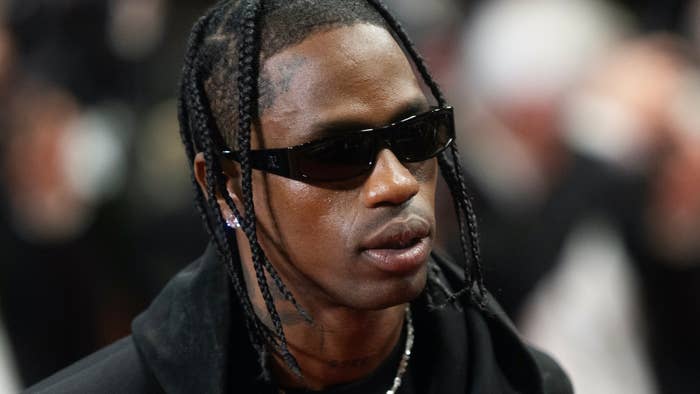 Almost two years after several people died at his annual Astroworld festival, Travis Scott will not be charged for his involvement.
According to ABC affiliate KTRK, the Houston rapper will not face criminal charges in connection to the 2021 Astroworld tragedy that left 10 people dead, dozens hospitalized, and over 300 others injured. A Texas grand jury determined that Scott and five co-defendants were not criminally liable for the fatal events that unfolded during the 2021 music festival at Houston's NRG Park.
"Today's decision by the Harris County District Attorney confirms what we have known all along — that Travis Scott is not responsible for the Astroworld tragedy," his attorney, Kent Schaffer, told People magazine. "This is consistent with investigative reporting by numerous media outlets and federal and state government reports that have squarely placed the onus for event safety crises on organizers, operators and contractors – not performers."
Schaffer continued: "While waiting patiently for the District Attorney's decision to not file charges, Travis Scott has been inaccurately and wrongly singled out, despite stopping the show three separate times and being unaware of the events as they were unfolding. Now that this chapter is closed, we hope for the government efforts to focus on what is most important – stopping future heartbreaking tragedies like Astroworld from ever occurring again."
Scott faced criminal prosecution over a massive crowd surge that took place on the first night of Astroworld 2021, which was organized by Live Nation and its affiliates. It was reported that the rapper's headlining performance kicked off shortly after 9 p.m. and prompted concert-goers to rush toward the stage. Eyewitnesses said many attendees fell to the ground and were trampled by the crowd. Eight individuals, ages 14-17, were killed on the night of the event; a 22-year-old woman and a 9-year-old boy died from their injuries days later.
A number of Houston officials, including Fire Department Chief Sam Peña, maintained that Scott was at least partially responsible for the deaths because he failed to stop the show once chaos ensued.
"The artist, if he notices something that's going on, he can certainly pause that performance, turn on the lights and say, 'Hey, we're not going to continue until this thing is resolved,'" Peña said during a 2021 Today appearance.
Scott's spokesperson Stephanie Rawlings-Blake pushed back on that claim, insisting her client didn't have the power to pause the concert.
"They have a 59-page operations plan, and it clearly says the only two people that are, have the authority to stop the concert, were the executive producer and the concert producer," she told CBS Mornings. "He was not responsible for this, but he wants to be responsible for the solution."
Scott claimed he wasn't aware that a mass casualty event was taking place during his set, and didn't learn about the crowd surge until after he left the stage.
"It wasn't really until minutes until the [post-concert] press conference that I figured out what happened," he said during a December 2021 sitdown with Charlamagne tha God. "Even after the show, you're just kind of hearing things, but I didn't know the exact details. And even at that moment, you're like, 'Wait, what?' You just went through something. People pass out, things happen at concerts, but something like that…"
He went on to say that he didn't hear any cries for help during his concert and simply went off the crowd's energy.
"It's so crazy because I'm that artist, too — anytime you can hear something like that, you want to stop the show, you want to make sure fans get the proper attention they need," Scott explained. "Anytime I could see anything like that, I did. I stopped it a couple of times to just make sure everybody was OK. And I really just go off the fans' energy as a collective — call and response. I just didn't hear that."