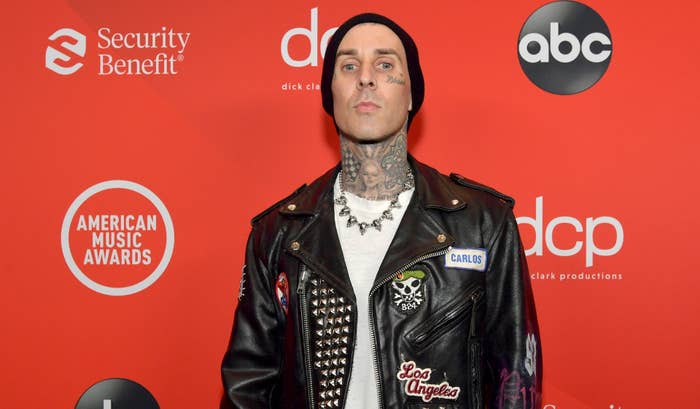 UPDATED 7/5, 9:15 p.m. ET: Just a week after he was rushed to a Los Angeles hospital to be treated for pancreatitis, Travis Barker appears to be back on his feet.
The Blink-182 drummer on Tuesday was photographed outside a recording studio in Calabasas, California. TMZ reports "several other musicians arrived at the studio about 30 minutes later," as the group was inside recording for several hours. 
Meanwhile, a source toldPeople that Barker is listening to doctors as he continues on his road to recovery. "He's slowly on the mend and closely following his doctors' orders," the source said. 
UPDATED 7/2, 6:47 p.m. ET: Travis Barker is speaking out on his recent medical scare.
Days after he was hospitalized with severe pancreatitis, the 46-year-old drummer took to social media to provide a quick update on his condition. Barker said his troubles started Monday after he underwent a routine endoscopy.
"I went in for an endoscopy Monday feeling great. But After dinner, I developed excruciating pain and have been hospitalized ever since," he wrote. "During the endoscopy, I had a very small polyp removed right in a very sensitive area, usually handled by specialists, which unfortunately damaged a critical pancreatic drainage tube."
Barker said the damage resulted in "life-threatening pancreatitis." Though he didn't provide details on his subsequent treatment, he told fans he is making a strong recovery.
"I am so very very grateful that with intensive treatment I am currently much better," he wrote.
Kourtney Kardashian also took to social media to share an update on her husband's hospitalization. 
"Oh what a scary and emotional week it has been. Our health is everything and sometimes we take for granted how quickly it can change," she wrote. "Travis and I went in for a routing endoscopy together and he ended up with severe, life-threatening pancreatitis." 
She continued, "I am so grateful to God for healing my husband, for all of your prayers for him and for us, for the overwhelming outpouring of love and support."
See the original story below.
Travis Barker has been hospitalized after experiencing health issues.
According to TMZ, Barker was rushed to a local Los Angeles hospital on Tuesday with his wife Kourtney Kardashian by his side. The outlet noted that the pair showed up at West Hills hospital before Barker was transported by ambulance to Cedars-Sinai Medical center. TMZ shared a photo of the 46-year-old Blink-182 drummer lying on a stretcher with Kourtney beside him.
A source told People that Kourtney "won't leave his side" after being "worried" about Barker, who was "suffering from extreme stomach pain and could barely walk" prior to his hospitalization.   
He took to Twitter several hours prior and wrote, "God save me." 
Per TMZ, Barker was hospitalized because of pancreatitis which doctors believe was triggered from a colonoscopy. People also reported the same diagnosis.  
Barker's 16-year-old daughter Alabama took to social media to ask people for their prayers shortly after news of her dad being hospitalized surfaced. "Please send your prayers 🥺," Alabama wrote on Instagram Stories.
Kid Cudi took to Twitter Tuesday night to let Barker know that he's in his prayers. 
The drummer was hospitalized back in 2018 after blood clots were discovered in both of his arms. 
An insider close to Kourtney told E! News Wednesday that Barker is expected to "be OK and is doing better today," while Kardashian is focused on "trying to lift his spirits" in light of his frightening and painful ordeal. 
News of Travis' most recent hospitalization arrives around a month after Barker and Kardashian tied the knot in Italy at the Castello Brown in Portofino. Among the reported guests were Kourtney's children and sisters, Kris Jenner, Corey Gamble, Machine Gun Kelly, and others.