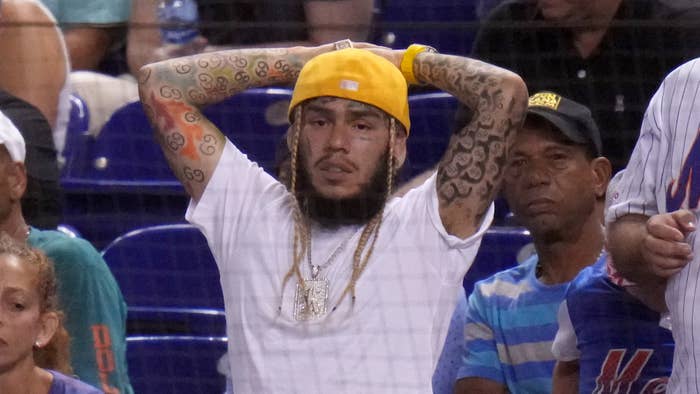 6ix9ine was kicked out of a baseball game in Miami on Friday, after a beer can was thrown at the polarizing rapper.
The incident took place during the World Baseball Classic quarterfinals matchup between Mexico and Puerto Rico at LoanDepot Park, home to the Miami Marlins.
Prior to 6ix9ine getting the boot, fans in attendance captured an altercation that occurred between Tekashi and another observer, who chucked a beer at the Brooklyn rapper while he was waving a large Mexican flag from his front row seat.
Sources told Page Six that 6ix9ine was removed from the stadium after the incident.
"He was heavily intoxicated and interrupting other guests' experience," a source told Page Six. The source, who confirmed to the publication that the 26-year-old rapper was eventually kicked out, continued, "He was drunk, he was inebriated and he was out of control… There were a lot of families there last night and he was bothering people."
Mexico eventually won the game against Puerto Rico with a final score of 5-4.
It isn't the first time this year that 6ix9ine has been removed from a public venue because he was too drunk. Back in January, Page Six reported the "Trollz" rapper was kicked out of a Miami restaurant after he was pouring bottles of tequila into guests' mouths.