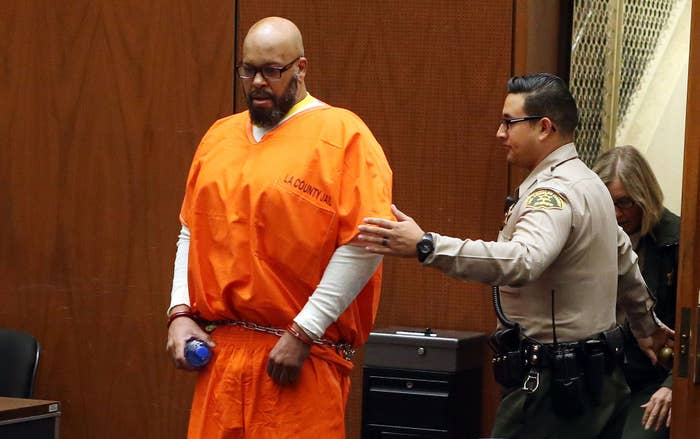 A judge on Wednesday declared a mistrial in the wrongful death suit brought against Suge Knight in connection to the death of Terry Carter, whom the Death Row Records founder struck with his truck in 2015.
Rolling Stonereports the jury was deadlocked 7-5 in favor of the plaintiff, Carter's wife Lillian Carter. A civil suit requires at least nine juror votes in order for a judgement to be awarded. After jury deliberations began last week, jurors determined after less than a half hour of meeting on Wednesday that a "mistrial should be declared." 
"It was intense," the jury foreman told Rolling Stone. "It was so intense, someone walked by the jury room and thought a real fight had broken out. There was yelling."
Back in 2018, Knight was sentenced to 28 years in prison after pleading guilty to voluntary manslaughter in connection to the death of Carter in the parking lot of a Compton restaurant. The L.A. Times reported the incident was the result of a dispute on the Straight Outta Compton movie set. 
Carter's family plans to request a new trial date at a follow-up hearing next month. "It's unfortunate, but the jury worked very hard. It feels good to know we were the majority," daughter Crystal Carter told the outlet. "We look forward to trying the case again to get victory for my dad. To get justice."
Meanwhile, Knight's lawyer, David Kenner, claims Suge fell victim to an "armed ambush."
"He finally got to tell his side of the story, and he's appreciative that the facts were sufficient" for a mistrial, Kenner said. "He had a viable defense. This case had two sides to it. Of all the history of Suge Knight and Death Row, this was not the case that should have been utilized to shut him down."
Knight is currently serving a 28-year sentence in prison.