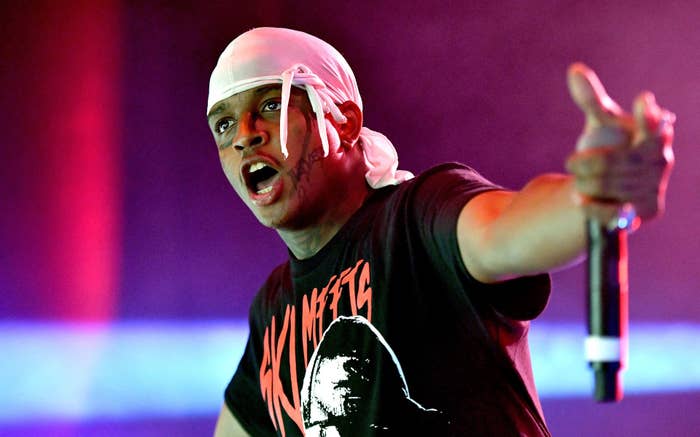 Ski Mask the Slump God's performance at Switzerland's 2023 Openair Frauenfeld Festival was highlighted by a stage dive gone wrong.
Over the weekend, a fan of the SoundCloud legend received no help from the crowd after attempting a stage dive during the Florida rapper's set. XXL reports Ski Mask the Slump God convinced the fan to take a leap of faith, which resulted in the latter landing face-first on the ground as the crowd parted ways following his jump.
Fortunately, it appears that the fan recovered from the fall, with another member of the crowd helping them up.
In the Twitter replies to the video below, one of Slump God's collaborators, DJ Scheme, chimed in to maintain the fan's well-being was considered before Ski Mask's crew implored him to take a dive.
"We told him don't jump," Scheme wrote.
Since blowing up during the peak of the SoundCloud rap era, Ski Mask the Slump God has continued his momentum, dropping a pair of projects featuring B-sides in 2021 (Stokeley: The Party Cuts, Stokeley: The Lawless Cuts), as well as his fourth full-length offering Sin City the Mixtape.
Ski Mask reflected on his internet origins in a 2021 interview with Brian "B. Dot" Miller for an episode of Complex Brackets.
"The SoundCloud era is gonna be remembered for what it did for the people in that era," Ski said at the time. "The people who was actually listening in that era, whether it's how much it's helped them or how it affected their life because it really took a big impact on that people that took participation in it."