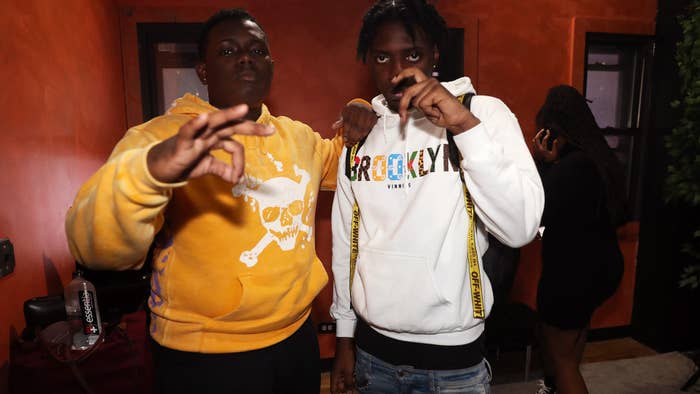 Sheff G, real name Michael Williams, has been accused of offering money and jewelry in exchange for committing acts of violence on rival gang members. 
Sheff G and Sleepy Hallow were among 32 alleged gang members charged in a 140-count indictment that was announced on Tuesday. Back in November 2021, Sheff G was sentenced to two years in prison after pleading guilty in connection with a traffic stop arrest earlier that year.
The Brooklyn District Attorney's Office alleges Williams "used the earnings from his music career to fuel gun violence in Brooklyn, by offering money and giving expensive jewelry to those who commit acts of violence."
"Instead of using his fame and his fortune for the betterment of himself and his family and those close to him, we allege that he used that fame and fortune to elevate gang violence in Brooklyn," DA Eric Gonzalez said at a press conference.
Shortly after the indictment was unveiled, Sleepy Hallow took to his Instagram Stories to express his and Sheff G's innocence. "Don't believe the internet," he wrote. "We innocent."
Prosecutors claim that Sheff G's involvement "went beyond merely offering money to commit acts of violence." In one shooting incident the Brooklyn rapper was involved in, Williams allegedly coordinated with three shooters, and even drove them to the crime scene before assisting them as the getaway driver.
Exhibit's shown at Tuesday's press conference include the below screenshot of a text message conversation between Sheff G and an 8 Trey ally, in which the former shares details about a murder that was subsequently committed.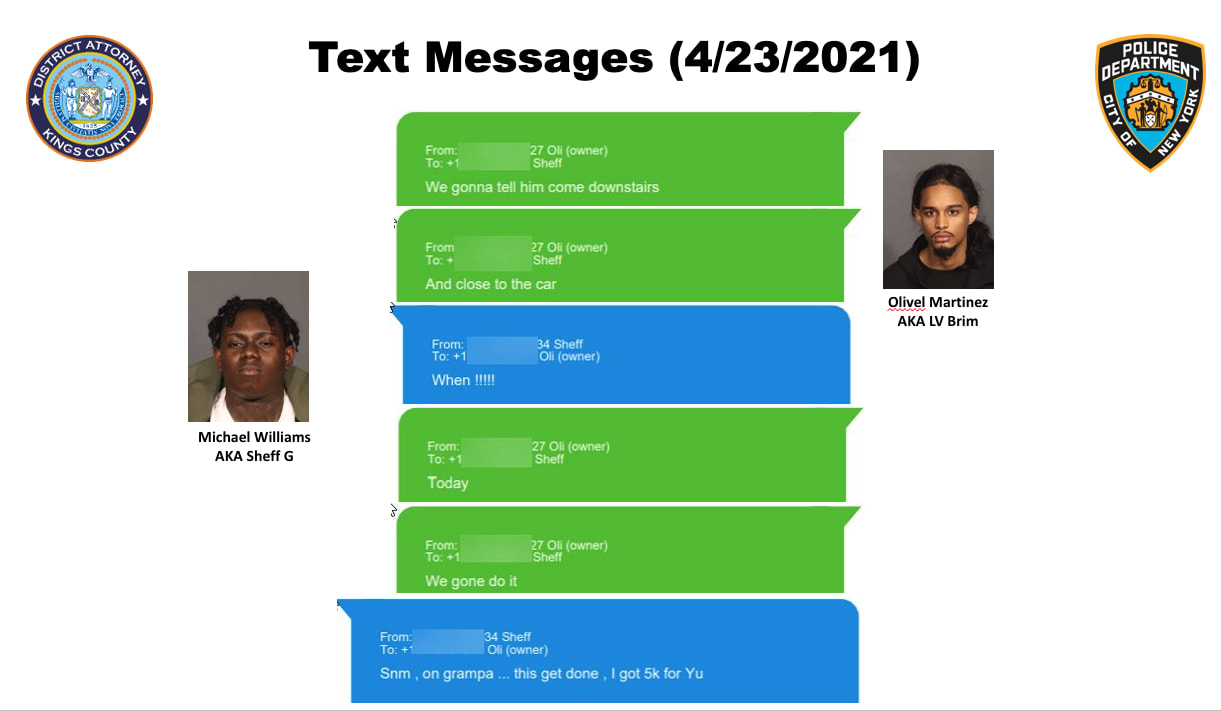 The 32 gang-affiliated men indicted today include members of the 8 Trey Crips and affiliate gang the 9 Ways. Prosecutors have charged the various gang members with second-degree murder, second-degree attempted murder, second-degree conspiracy, second-degree criminal possession of a weapon, first-degree assault, first-degree attempted assault, second-degree kidnapping, first-degree gang assault, first-degree attempted gang assault, second-degree assault, first-degree reckless endangerment among others. 
While announcing the indictment on Tuesday, Brooklyn District Attorney Eric Gonzalez said that he hopes the takedown "will have a positive impact on public safety across several Brooklyn communities as we enter the summer months."
Gonzalez continued, "The senseless gun violence, allegedly committed by these defendants, terrorized our neighbors for years and left more than a dozen people with serious injuries. It is distressing to know that some of the violence was allegedly fueled by a young man who used money he made from a successful music career to allegedly pay for and encourage acts of violence. Together with the NYPD, my office will continue to target the most violent individuals and to build strong cases against them, as we have in this case."