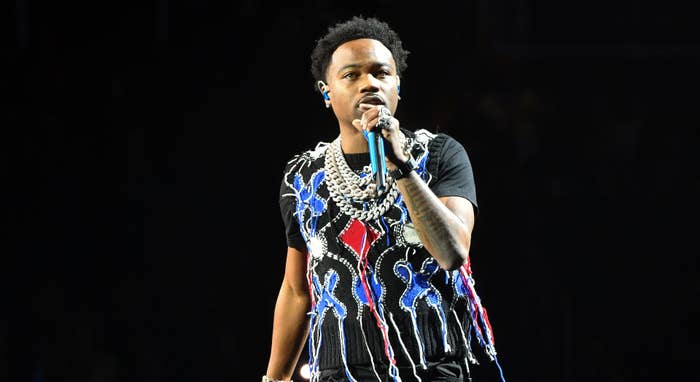 Roddy Ricch is putting his money where his mouth is. 
In a preview clip from Roddy's upcoming appearance on Joe Budden's podcast, Budden and his co-hosts tried to guess how much the Compton rapper gets paid to perform at music festivals. After hearing amounts ranging from $30,000 to $350,000, Roddy revealed his current rate: $500,000.
After skeptics challenged his claim in the comments section of Budden's post, Roddy shared a receipt from his performance at New York City's Governors Ball event in June 2022.

The receipt shows that Roddy earned a $50,000 deposit, which was due 31 days before the performance; as well as $450,000, which was due to be paid two days after the June 11 show.
Earlier this month, Roddy released the third installment of his Feed tha Streets series.
The Compton native announced the project in December 2021, just days after delivering his sophomore studio album Live Life Fast. In the following months, Roddy would break off a number of Feed tha Streets III singles, including "Aston Martin Truck," "Stop Breathing," and the Lil Durk-assisted "Twin." 
Roddy, who recently wrapped up his North American tour with Post Malone, told Apple Music's Zane Lowe he intends to more "consistent" in 2023, but refuses to "rush" his work.
"I feel like I'm young, so this is the time to do it. I feel like hard work beat everything," he explained. "I feel like hard work is one of those things that, you know, you can't really stop. If somebody work harder then they might last longer, it might be a little better. You know what I'm saying? So that's where we at, that's the space we want to stay in."