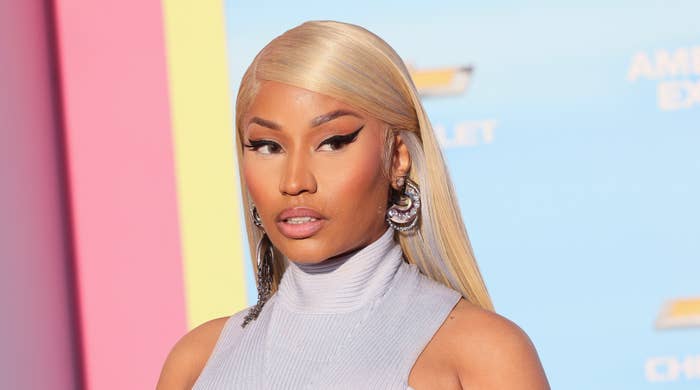 Netflix is celebrating hip-hop's queens in the forthcoming docuseries Ladies First: A Story of Women in Hip-Hop.
On Tuesday, the streaming giant released the first trailer for Ladies First, which was highlighted by appearances from legends such as Queen Latifah, MC Lyte, Rah Digga, and Da Brat, as well as newer stars like Saweetie, Coi Leray, Latto, Tierra Whack, Rapsody, Kash Doll, and Chika.
It didn't take long before rap fans hopped on social media to point out there are a few A-list MCs absent from the Ladies First trailer, notably Nicki Minaj, Missy Elliott, Lil' Kim, Foxy Brown, and Lauryn Hill, among others.
Of course, Nicki's loyal fanbase took to Twitter to express their frustration.
"How is THE Nicki Minaj nowhere to be seen in this…like…?????" fan @luxxnoirlondon tweeted. Another credited "this disrespect" of Nicki as the reason "why Barbz go so hard."
"You have to acknowledge Nicki Minaj when it comes to Women in hip-hop," @PlayBoiBarb wrote. "This disrespect to her legacy is exactly why Barbz go so hard. Nicki Minaj has had a longer and more successful career than any of these women ya'll shown and has done more for MUSIC in general as well."
It wasn't immediately clear if Nicki will be featured in the final version of Ladies First, but a user claiming they co-produced the project, Shawn Allen, had a purported explanation.
"Nicki didn't let us license her music & videos," Allen tweeted amid the hubbub, alleging that the team did plan to include her. Unfortunately "it didn't make sense bc she didn't give us any licensing. Her nor Missy."
"I think bc Nicki is working on her own doc…I don't understand why Missy didn't agree," Allen—whose involvement with the project is not yet verified—said in a follow-up. He noted other producers on the project include Dream Hampton, MC Lyte, Raeshem Nijhon, and Justin Simien, and that anyone's irritation with the streaming service is misplaced. "Netflix bought it but didn't produce it," he wrote.
The four-episode project hits Netflix on Aug. 9. In the meantime, here's what Netflix said in an official press release: "This timely limited doc series recontextualizes the irrepressible women of hip hop and their role in the genre's 50 years by reinserting them into the canon where they belong: at the center, from day one to present day. By giving flowers to originators like Sha-Rock and Roxanne Shante or hearing real talk from contemporary superstars like Saweetie and Coi Leray, Ladies First: A Story of Women in Hip-Hop contextualizes the history of the music that changed the world within the wider social, racial, and political landscape of the times and, crucially, through a female lens."