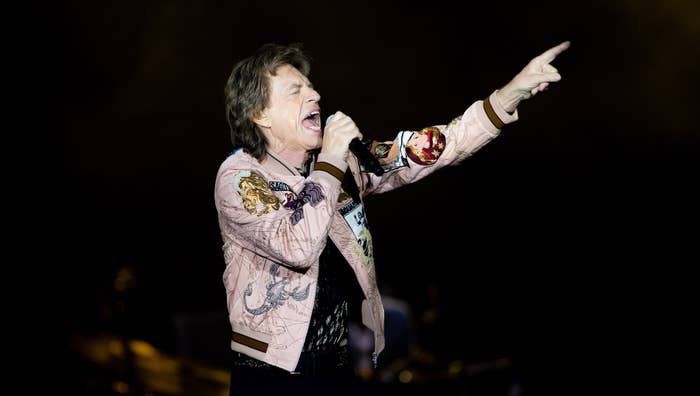 Paul McCartney made headlines earlier this week as he reignited the longstanding rivalry between the Rolling Stones and the Beatles.
While looking back at his career in a new interview with the New Yorker, McCartney couldn't help but diss his rivals, referring to the Stones as a "blues cover band."
"I'm not sure I should say it, but they're a blues cover band, that's sort of what the Stones are," McCartney told editor David Remnick. "I think our net was cast a bit wider than theirs."
It didn't take long for Mick Jagger to respond. At the Rolling Stones concert at SoFi Stadium in Los Angeles on Thursday night, Jagger called out McCartney while naming many of the famous people in attendance.
"There's so many celebrities here tonight," Jagger said early in the show. "Megan Fox is here, she's lovely. Lady Gaga. Kirk Douglas. Paul McCartney is here; he's going to help us — he's going to join us in a blues cover later." 
Jagger's playful dig is just the latest back-and-forth between the two rock legends. While chatting with Apple Music's Zane Lowe in April 2020, the 78-year-old rocker shared his opinion on how the Stones stack up with the Beatles: "One band is unbelievably luckily still playing in stadiums, and then the other band doesn't exist," Jagger said at the time.