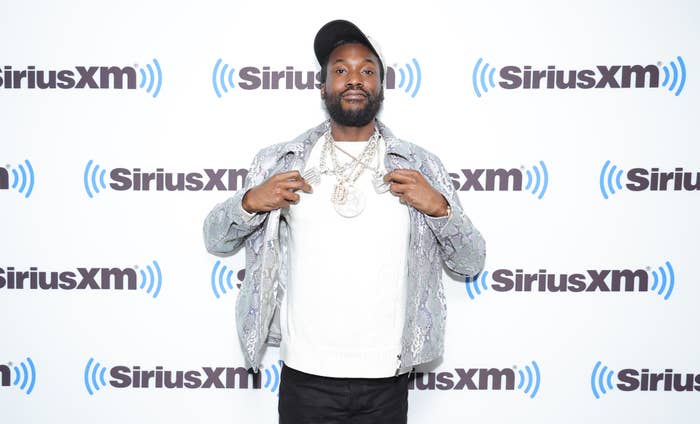 Meek Mill and Drake have established a close friendship in the years since the pair traded haymakers in the biggest rap beef in recent memory.
During a recent interview on SiriusXM's Hip Hop Nation, Meek detailed how his relationship with Drizzy has evolved since the two ended their years-long feud back in 2018.
"Me and Drake talking to each other a lot," Meek shared. "Somebody was saying 'Drake['s] 'Slime You Out' was corny.' I texted him. I was like, 'I don't think 'Slime You Out' is corny, and I would tell you if I thought it was corny.' I just ain't think the song was corny. … But on the internet now we got it like that, where we could like be brutal."
The Philadelphia rapper continued: "If he thinks my song corny, he could tell me that. We never was at a space like that before the beef. And now we got to a space where we can text each other and say anything … We got that honesty where we can leave it on the table and we can walk away and feel good about that. And we ain't had that before the beef."
Meek's comments come five years after he and Drake made peace after the latter invited the Philly rapper on stage during the Aubrey & the Three Migos tour. Earlier this summer, the pair reunited when Drizzy brought Meek onstage during his It's All a Blur Tour stop at Wells Fargo Center in Philadelphia.
"Y'all see who I walked out here with right? I'd always keep it 100 with you. The last time I was in this building, that man right here, he's been representing this city since he started this shit," Drake told the crowd.
He added, "It means the most to me that I could come back to this city and show the growth as two men that we can come here tonight and we can represent for motherfucking Philadelphia together. That's what this s**t is about."