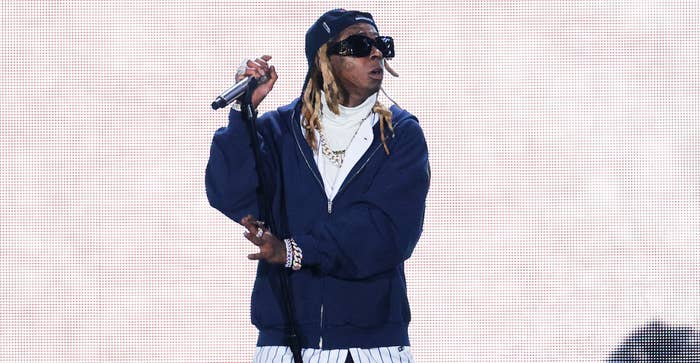 Lil Wayne reportedly nixed a surprise appearance at a recent stop on 50 Cent's Final Lap Tour after the Young Money rapper was pushed by someone backstage.
Page Six reports Weezy was in attendance at Fif's concert at Crypto.com arena on Wednesday night, the same spot where the G-Unit rapper allegedly tossed a mic into the audience and nailed a concertgoer in the head.
Sources close to the situation told Page Six that Wayne was shoved by someone backstage, and the person did not realize they had put their hands on the Carter III rapper.
"He just stormed out," a backstage source told the outlet. "He was in the building for about 20 minutes total."
Wayne's exit came the same night that 50 made headlines for injuring a fan in attendance after throwing a microphone into the crowd.
As previously reported, 50 grew agitated at one point as he was handed multiple mics that didn't work. In a video posted by The Neighborhood Talk, the technical difficulties clearly upset 50, who threw the broken mics aggressively into the crowd twice.
One of the mics appeared to hit a woman in the head, and she was left with a bloody gash on her temple as a result.
50 Cent's Final Lap Tour is scheduled to make stops in Seattle (Sept. 7), Vancouver (Sept. 8), Calgary (Sept. 10), Edmonton (Sept. 11), Chicago (Sept. 16), Detroit (Sept. 17), and Baltimore (Sept. 19), among other cities, before wrapping in Toronto on Sept. 22.