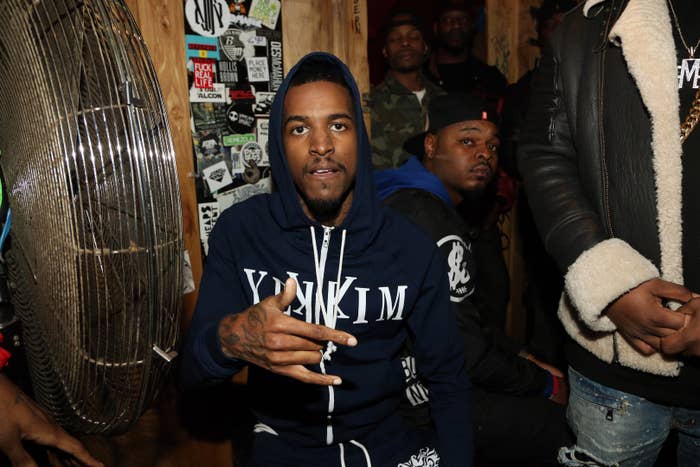 Chicago police say Lil Reese was among several men who were shot Saturday morning in the city's River North neighborhood.
According to the Chicago Tribune, a preliminary investigation suggests the involved parties began shooting at each other shortly before 10 a.m. Responding officers say they found three men—ages 20, 27, and, 28—inside a parking garage with gun shot wounds. The 20-year-old is reportedly in stable condition after being shot twice in the knee, while the 27-year-old is said to be in critical condition after sustaining multiple shots to the body.
Reese, whose legal name is Tavares Lamont Taylor, was identified as the third man. The Tribune reports he was transferred to Northwestern Memorial Hospital after a bullet grazed his eye. Though Reese is said to be in "fair condition," his managers took to Instagram on Saturday night, asking fans to keep him in their prayers.
Prior to the shooting, a man alerted police that his Dodge Durango had been stolen. The vehicle was reportedly equipped with a tracking device, which showed the car was in a parking garage at a downtown apartment complex. According to the Tribune, the father of the vehicle owner went to the location and attempted detain the men who were inside the Durango before someone opened fire into the car, causing it to crash into a pillar. Sources say it was at that time when people exited the Durango and began exchanging shots with someone. 
Officers reportedly found two hand guns and numerous shell casings at the scene. 
Reese reportedly told authorities he met the people inside the Durango outside the parking garage, and directed them inside so that he could purchase cannabis from them. Officers say the other two men provided little information on what happened.
On Saturday night, video of the shooting's aftermath began circulating on social media. The graphic footage shows a man exiting the garage, as another man and women accuse him of stealing the car. The video then shows another bloodied man, who appears to be Reese, going in and out of consciousness while on the ground.
"Look at Lil Reese! Look at Lil Reese!" the woman behind the camera says, before turning her attention to another man. "You stole my (expletive)!"
"That wasn't me," the man responds. 
The news arrives just 18 months after the 28-year-old rapper was critically wounded when he was shot in the neck by a man armed with an AK47 assault rifle Country Club Hills suburb of Chicago. 
WGN reported at the time that there was a car chase and that witnesses heard as many as 12 gunshots. According to the report, the individual who was pursuing Reese stepped out of his vehicle, shot Reese and fled the scene.
Reese was hospitalized for a few days at Christ Medical Center in Oak Lawn, before returning home to make a full recovery.
This story is developing.