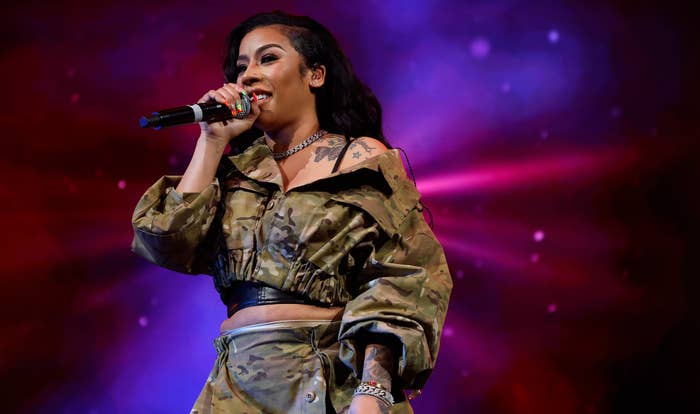 UPDATED 5/17, 10:45 a.m.: Brown posted a video on Instagram showing an AB tattoo on a woman's lower back—potentially Cole's—writing, "'You Ain't Pimpin Until You Hit An RnB Diva.' #FreeAgent #KeepPimpin."
Cole deemed the caption "harsh."
In the comments, Keyshia wrote, "This the second time you posted this @AB but the captions changed. don't be mad at me no more babe, I said I apologize."
Per a screenshot shared by the Shade Room, the singer also wrote on her Instagram Stories, "Yea I was big trippin..smh I see it now. I have a 12 year old. Like that type disrespect for what.. Nothing is worth that level of disrespect, especially when u don't deserve it. Had so much love, respect and admiration fa you. Guess that wasn't mutual."
Cole spoke about Brown on an IG Live with celebrity stylist EJ King as well.
"I think he made it very clear. He was like, you know, 'Baby I liked you at first, but now I don't'—it's like a no. So I think that's maybe just what it is," she said, among much more, including the "harsh" remark:
See original story below.
Fresh off collaborating with Antonio Brown on his debut album, Keyshia Cole might be developing feelings for the NFL wide receiver.
The R&B singer took to her Instagram Stories this week to post pictures of the two together, writing, "Miss him! A lot."
Back in April, after collaborating with AB on "Don't Leave," the first single off his Paradigm album, Cole spoke with TMZ about her relationship with the former All-Pro wide receiver.
"I think he's really talented, for sure," she said. "I love the body of work that he created. I think he's gonna be great. I do. I wouldn't have collaborated if I didn't think he'd be great."
Despite his recent foray into the music world, Brown has yet to announce his retirement from football. In January, the Tampa Bay Bucs parted ways with AB after he walked off the field during the team's Week 18 game against the Jets. Weeks later, he sat down with Complex for a wide-ranging conversation where he maintained that he hadn't ruled out a return to the NFL.
"I'm a football player, man. I'm a professional athlete. Let's not get that twisted. That's my main thing," he said, adding he's already been in contact with some organizations. "A couple teams called."
Elsewhere in the interview, Brown described his music as being about overcoming adversity and remaining a champion. "It's just about being a champion, overcoming adversity, persevering, and not letting people get in your head or dictate your position," he explained. "Just being driven, being exciting, and being encouraging."