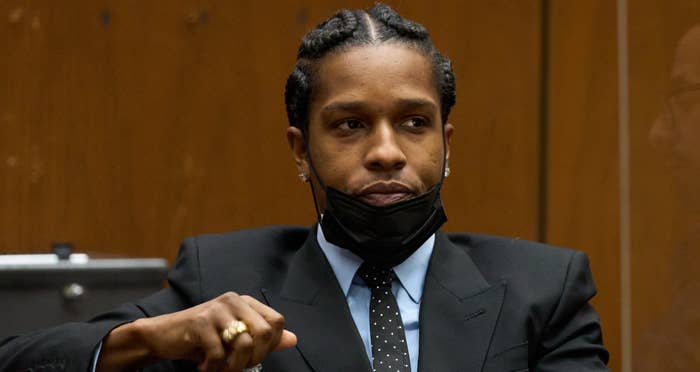 ASAP Rocky appeared in a Los Angeles court on Monday, where Judge Mary Lou Villar de Longoria determined the Harlem artist will stand trial on two felony counts of assault for the alleged 2021 shooting of ASAP Relli, real name Terell Ephron.
Veteran court reporter Meghann Cuniff shared at the end of Monday's proceedings that the judge "just ruled there's probable cause for rapper A$AP Rocky...to support two counts of first-degree assault with a firearm."
Rocky's arraignment is set for Jan. 8, 2023, after which he will go on trial.
"There will be some evidence that is going to be insurmountable. The witness is not going to be able to withstand cross-examination in front of the jury," attorney Joe Tacopina said outside the court, as seen above. He added he's "certain Rocky is going to be vindicated when all is said and done."
As reported by Rolling Stone, some new footage was played Monday, two weeks after another clip—which allegedly featured Rocky shooting Relli—was played in court. As opposed to the previous video, the latest footage includes sound, which features "two loud pops with a time stamp matching the alleged shooting."
Moments after the "loud pops" are heard in the video, a man prosecutors have identified as ASAP Rocky "is seen rounding the corner from the scene of the altercation and slowing down to a walk."
On Monday, LAPD detective Frank Flores testified that another video, which was taken at a different parking garage where the incident took place, appeared to show a gun in Rocky's hands.
However, Flores admitted the video capturing the alleged shooting isn't definitive. "[There's] nothing clear that shows it," Flores said when cross-examined by Rocky's lawyer.
The shooting allegedly took place on Nov. 6, 2021. Relli claims Rocky called him and demanded to know where he was before the pair met at a Los Angeles hotel. According to Relli, Rocky arrived with a crew of men and confronted him, which resulted in Rocky pointing a gun to Relli's stomach and threatening to kill him. Ephron claims Rocky subsequently shot him four times before fleeing the scene.
In August 2022, Rocky pleaded not guilty to two counts of assault with a firearm.
"Defendant generally denies each and every allegation of the complaint and specifically denies that Plaintiff has been damaged in any amount or in any way as a result of any act or omission of answering defendant," Rocky's attorneys said at the time. "The injuries and/or damages complained of in the complaint, if any, were caused solely, directly and proximately by the negligent and/or intentional acts or omissions of person other than answering defendant."