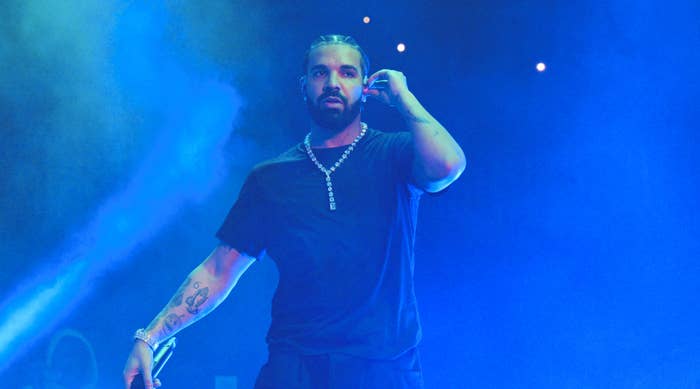 Drake is the proud owner of a rare piece of 2Pac jewelry that recently sold for over $1 million at a Sotheby's auction.
Earlier this week, the gold, ruby, and diamond-encrusted ring, which 'Pac wore during his last public appearance at the1996 VMAs, sold for $1,016,000.
On Friday, Drake hopped on Instagram to reveal he's the one who made the hefty purchase. In a post on his Instagram Story to promote Travis Scott's latest album Utopia, Drake shared a close-up of photo of the ring on his finger.
Meanwhile, it appears that Drake references his latest jewelry purchase on his guest verse on Utopia cut "Meltdown," in which he raps "I pull out a million to stare at this shit."
Drake will have a difficult time topping his latest purchase, as 'Pac's ring is already considered the most valuable hip-hop artifact ever sold at an auction.
The 14 karat yellow gold ring "sits atop a diamond-encrusted gold band is the 'crown' itself: a gold circlet studded with the three largest jewels in the entire piece—a central cabochon ruby, flanked by two pavé-cut diamonds," Sotheby described on its website.
"This one-of-a-kind, custom ring was meticulously designed by Pac and is among the final products of his boundless creative energy — a unique artifact from a period of time that is a testament to his enduring influence on hip-hop," Cassandra Hatton, Sotheby's Global Head of Science and Popular Culture, added.