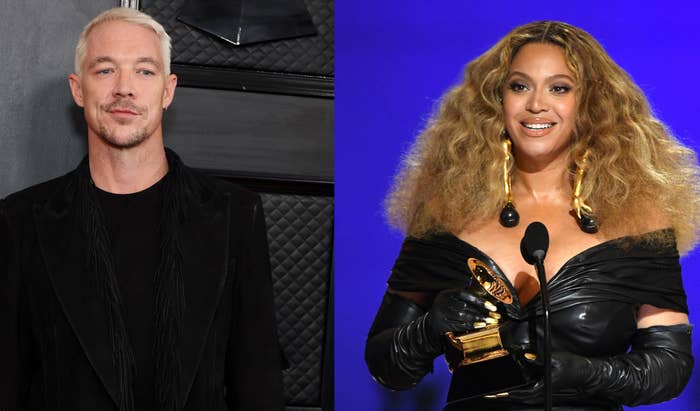 Earlier this month, Beyoncé's latest album, Renaissance, won Best Dance/Electronic Music Album at the 2023 Grammy Awards. As the pop star took the stage to accept the award, cameras captured Diplo yelling a few words to a person seated next to him. Some internet lip readers believed the producer said something to the effect of, "They bought that."
However, Diplo has denied throwing any shade at Beyoncé. The producer, who previously clarified that what he actually said was, "I'm glad to be part of this," recently DM'd Instagram account Hollywood Unlocked to further explain why he was not dissing Bey.
"You know I didn't say that lol," Diplo said regarding the aforementioned rumor, before sharing an official statement that sheds light on his respect for Beyoncé.
"Beyoncé['s] album was legendary (I'm a Beyoncé stan. Remember I produced some classic dance songs for her, like 'Til the End of Time' and 'Girls Run the World')," he said in an official statement to Hollywood Unlocked. "What's important to understand was that her intention was 100 percent. She did the work, found the real producers, and she made classics. So, she deserves her flowers, and when she won, I was just proud to see my nomination on the screen in the huge arena."
"Dance music has and will be the most Inclusive music of our generation," Diplo added. "Our community has always been gay / straight, but icy , poor.. white black brown purple .. it's the music that had united the world during my lifetime and i'm glad to just be one part of it."