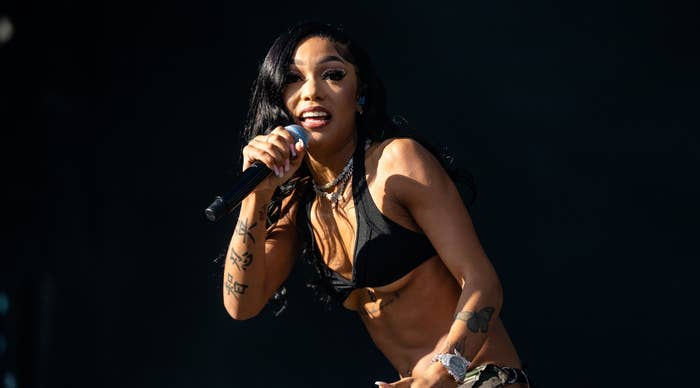 After years of feuding, Benzino and Coi Leray appear to be making strides toward a healthy father-daughter relationship,
Over the weekend, Coi and Benzino shared a wholesome moment at Rolling Loud Miami, where the former Source editor watched his daughter perform for the first time.
"I'm just saying, she's amazing," Benzino shared in a backstage interview. "Like for real, no bullshit. I love her. Seeing her like that...you can say I'm biased, but honestly, like, I don't see nobody else doing that. She's amazing, man."
"It's the first time he ever, ever seen me perform," Coi said, adding that she's "carrying this hip-hop shit, this legacy shit."
The encouraging interaction comes more than a year after Coi called out Benzino during an appearance on the Breakfast Club, claiming he put her family in a tough spot due to financial issues.
"That's the problem everybody think it was a silver spoon situation. My dad lost The Source when I was like 9 [years old], bruh" she shared in the April 2022 interview. "Once it was gone I was old enough to understand life. And it was gone after that. Reality hit. We were broke, we're figuring things out, ya feel me?"
Coi subsequently took to social media to reveal that Benzino had threatened his daughter and her mother after catching wind of his daughter's comments.
"My dad is texting my mom threatening her and me because I said he went broke on the breakfast club on the day of my album release," she tweeted at the time. "I hate to bring this shit to social media but my father need help. Sorry if I offended you on breakfast club but don't treatment me or my mom because you hate to admit that we went broke after the source."