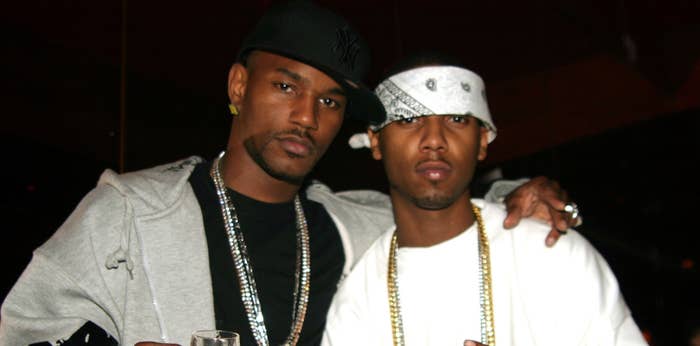 Cam'ron is opening up about his fellow Diplomat Juelz Santana not reaching his full potential as a solo rapper.
In an appearance on Gille Da Kid and Wallo's Million Dollaz Worth of Game podcast, Killa Cam and Mase described the talent Juelz had, with the latter saying Santana "could've been Hov level."
"Real talk, he had it," Cam added. "And he had it at a young age. He could've been the leader of everything that's going outside right now. He could've been all these young n***as' father, uncle, whatever you wanna call it. The chicks liked him, he could rap, he was fly. He had every element you needed to be that n***a."
Mase reiterated Cam's thoughts by saying Juelz "had that real wittiness to be one of those special rappers."
From there, Cam shed light on what he believes held Juelz back from reaching his full potential.
"To me, Juelz, I wouldn't say [had] poor work ethic, but I'm just not sure why" the Purple Haze rapper explained. "Juelz is sitting there with 300 songs in his hard drive, and won't put it out."
Cam continued by explaining that, 15 years ago, Juelz would tease plans to release an official album as soon as he got out of the record deal he'd signed with Cam's label. Back in 2008, Cam sold Juelz's contract to Def Jam.
"If you think about it, he wanted to get out his deal with me," he shared. "He's like, 'I'm not putting out no music until I get out the deal with Cam and then I'm gonna put my album out. And he's been out the deal since 2008. He's put out little mixtapes here and there, but he hasn't put out a real project."
According to the Dipset rapper, during the peak of The Diplomats, he'd have to lock Juelz in the studio in order to finish songs.
"All them songs that you hear, the bangers, was forced," he said. "It got to the point where I can't treat you like you're a grown man now. I can't yell at you. I can't scream at you. All them hits, "Gangsta Music," "Santana's Town," all the hot shit, was forced. That's how the songs came about."
Cam concluded by maintaining that he isn't critcizing Juelz's work ethic, though hes unsure why he has so many unreleased songs in his vault.
"I'm not gonna say he doesn't have great work ethic," Cam explained. "I don't know what it is, that once he have the songs done, they don't come out. And he's sitting there with 800 songs in the hard drive."
Watch Cam and Mase share their thoughts on Juelz's career arc in the clip up top.