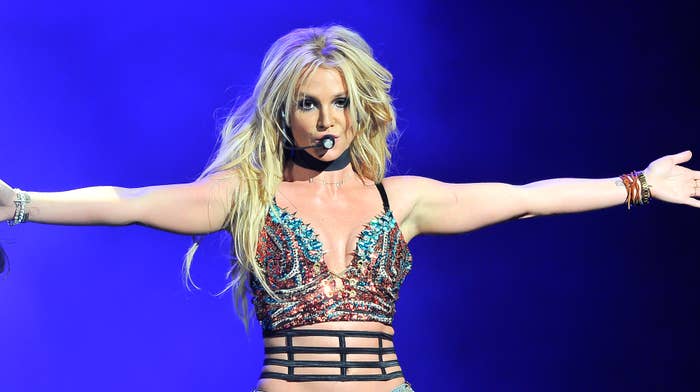 UPDATED 1/16, 12 p.m. ET: Britney Spears' husband Sam Asghari has denied reports that the singer had a "manic episode" after he appeared to storm out on a dinner date.
In an interview with TMZ on Sunday, Asghari explained that he only left in an effort to pull up their car so they could leave as soon as possible. "People get a little bit too excited to see my wife, so everybody's filming, everybody's doing their thing," he said. "But you know how it is, fame comes with the territory and I went to get the car to get the hell out of there and people just thought I left. But that didn't happen."
Asghari stressed that Britney appeared to get worked up because everyone started filming her, when she just wanted to have a meal with her husband. "It is what it is," he said before being asked if Britney was merely getting "frustrated" because everywhere she goes there's cameras capturing her every move. "It's frustrating. … You know, when you sit down to have a meal and people get their cameras out and start filming you, it's disrespectful. But you know what it is, fame comes with territory and that's it."
See original story below.
Britney Spears was having a difficult time while out to dinner with her husband on Saturday. 
TMZ reports the incident took place after Spears and her husband, Sam Asghari, 28 arrived for dinner in the Woodland Hills area of Los Angeles. "Patrons pulled out their cell phones and began shooting footage of her. Britney got pissed and things went south quickly," the outlet noted.
According to witnesses, Britney became "manic," yelling and talking gibberish, which resulted in Asghari storming out of the restaurant. In the below footage, Spears can be seen sitting alone, muttering to herself, before leaving the restaurant with her bodyguard.
Hours after her public outburst, Spears took to Instagram to post a few cryptic messages.
"They told me I couldn't that's why I did!" read one post, which was an illustration of a sunglasses-wearing woman, who looked very much like Cardi B, sitting with her legs crossed.
In a subsequent post, Britney shared a video in which the "Toxic" singer danced to music by herself while repeatedly flipping off the camera. 
The news arrives on the heels of a series of bizarre social media posts from Spears, which has featured the "Baby One More Time" singer sharing several near-nude images and videos to Instagram, including a clip of herself bathing.
Check out Britney's latest posts below.