12 Things We Learned From YoungBoy Never Broke Again's 'Off the Record' Interview
YoungBoy Never Broke Again joined DJ Akademiks for a lengthy chat on Clubhouse, and now the interview is available via the latest 'Off the Record' podcast.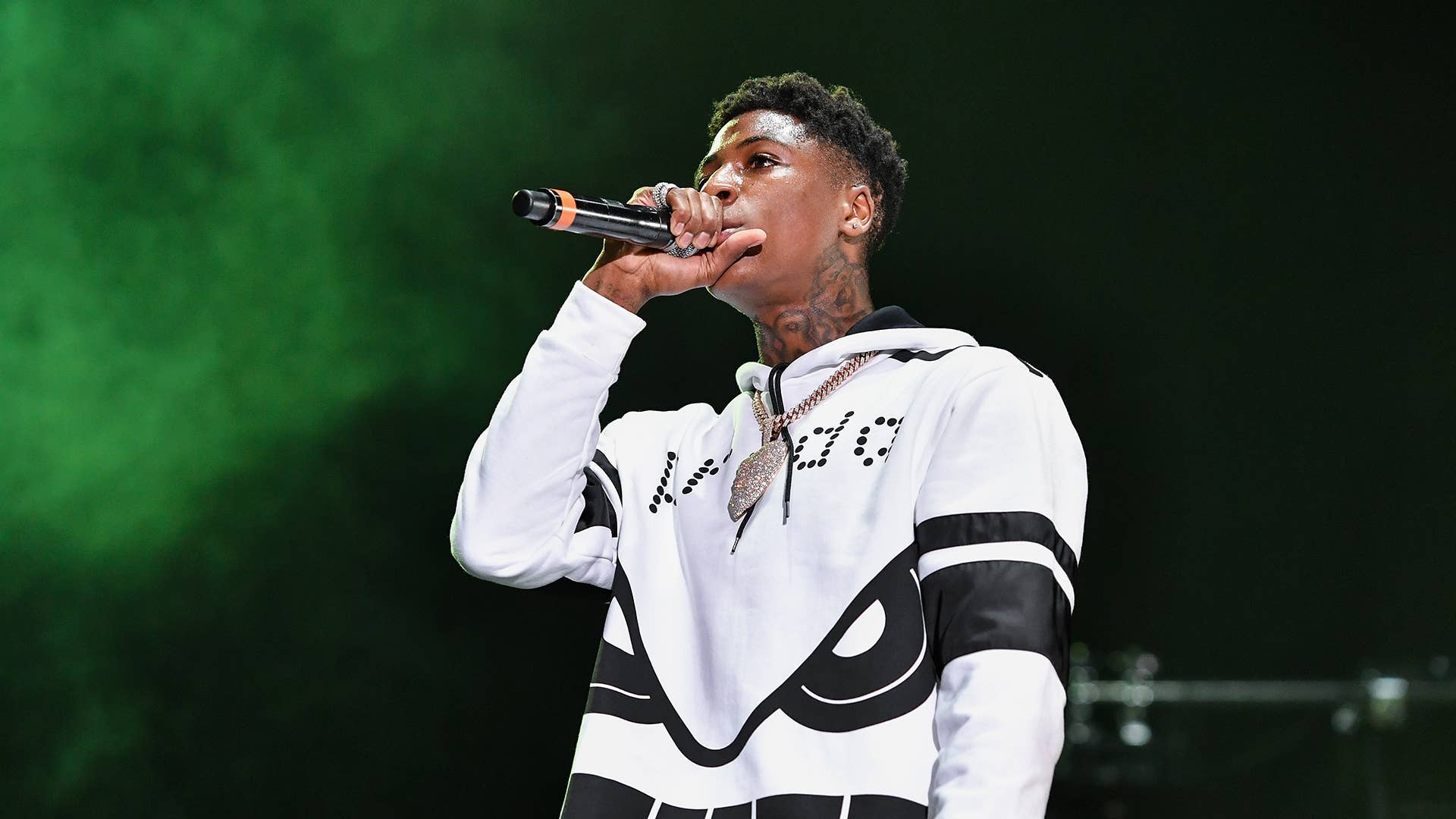 Getty
Image via Getty/Erika Goldring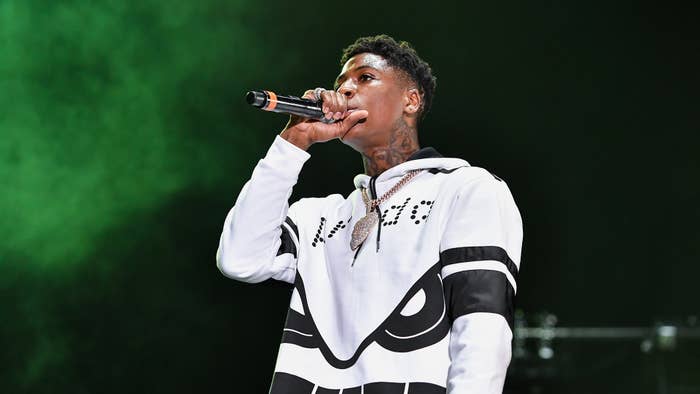 YoungBoy Never Broke Again joined DJ Akademiks for a lengthy chat on Clubhouse, and now his interview has arrived as part of the latest Off the Record podcast. 
During the three-hour long chat, the two spoke about YoungBoy's possible future retirement, the Grammys, and his issues with his label, Atlantic Records. Other topics of interest throughout the podcast, which arrives the same week the rapper's collaborative mixtape with Birdman is due to drop, include marriage, Soulja Boy, and having his song "Right Foot Creep" featured in Fortnite.
The interview was conducted while YB is still under house arrest, following his release from jail on bond in October. He was arrested on an outstanding federal warrant. 
Just last month, YoungBoy highlighted his Never Broke Again crew with the Never Broke Again Vol. 1 project. The 18-track compilation features two solo records from the rapper, as well as contributions from the likes of NoCaop, Quando Rondo, Big B, RJae, Meechy Baby, and P. Yungin among others.
Check out the biggest takeaways from the interview below, and listen to the full podcast above via Spotify.
Time stamp: 3:40
YoungBoy told Akademiks he came home from jail with the mindset of not making music anymore, but admitted it's his "therapy," helping "calm" him and providing a place to say "what I need to say." Despite that, he said he's lost his love for music. When asked why, he replied, "'Cause I know it's pussy. … I really ain't got nothing to say, though."
Ak suggested YoungBoy might have made himself a target by using music as therapy, but he insisted his output "ain't nothing but entertainment." From there, he said music brings "too many problems" to his life.
"I been wanting to stop doing music since two and a half years ago," YoungBoy said. "I'm really getting to that breaking point of, like, 'Fuck that shit.' I used to make five, 10 songs a day. Now I make like two songs."
YoungBoy concluded if he could be "normal" but maintain his income, he'd give up music immediately. "I'd give it up all right now, but other than that, I've put my life on the line too many times," he continued. "I've got friends that done died [in] this shit."
Time stamp: 13:30
"Man, I don't really be having no favorite," said YoungBoy at first when asked which project he prefers over the others. "All that shit come from my heart and my mind."
Then he offered a pick anyway, one that dropped just last year. "If I had to choose I'd say 38 Baby 2, that my favorite project."
Time stamp: 23:50
Akademiks congratulated YoungBoy on his Best Melodic Rap Performance Grammy nomination for "WusYaName" with Tyler, the Creator and Ty Dolla Sign.
He immediately replied, "Fuck that shit, Ak! They ain't gonna give me that shit, man." When Ak insisted they're going to reward him with the Grammy—especially because Tyler has gotten trophies in the past—the rapper maintained he doesn't think he'll win.
"Shit no, in my heart I don't believe that bitch gon' come this way," he continued. He said he thinks the Weeknd (who is nominated for "Hurricane" with Kanye West) or Doja Cat ("Need to Know") is going to be victorious.
"I ain't even focused on that shit, I don't even let that shit get me excited," he said, also noting that his grandmother will be pleased if he wins.
Time stamp: 26:40
Akademiks told YoungBoy about his fanbase terrorizing other artists with "YB better" comments on Twitter and Instagram, but the artist disagreed that he's got one of the biggest fan bases out there.
"I think Tyler or Uzi got the biggest fanbase," YoungBoy said. As far as the idea that he himself is a "superstar," he laughed off the comment, insisting he can still go out in public in many places without getting recognized. "Don't nobody walk up on me like that, man."
Time stamp: 35:10 and 39:00
YoungBoy said he doesn't really seek out collaborations because he doesn't "fuck with n***as." He admitted there are a few artists he would hop in the studio with, though. Presented with the idea that Doja Cat would make for a good collab, he divulged that he's got something of a crush on the "Say So" artist.
"If I ain't have a family, if I ain't have a girl, I'd be tryna marry Doja Cat," he laughed. "Fuck you talking about, man? … But nah, I got my little girl, her mom upstairs. I ain't fucking around like this. … She making her own way out here."
Time stamp: 45:50
Earlier this year, YoungBoy Never Broke Again's song "Right Foot Creep" was included alongside a purchasable emote in Fortnite titled "Get Griddy." Ak mentioned the emote, with YoungBoy laughing and sharing that he had no idea about it.
"I didn't know that, but I don't play no Fortnite," he laughed. "I ain't see that yet, you gotta send it to me."
On the topic of pop culture, he was asked if he watched Netflix at all and said he only spends time with documentaries. Two notable ones he highlighted were about mermaids and bears.
Time stamp: 56:30
Soulja Boy has said in the past he "could have" signed YoungBoy, but asked whether that was true, YB said otherwise. "Nah, that's crazy," he said.
Soulja has maintained the rapper contacted him through DMs when he was around 15 or 16, but YoungBoy implied that he was simply trying to get as many eyes on his tape as possible by sending it to lots of high-profile people.
"I don't give a fuck that he posted that shit," YoungBoy said. "Shit, he missed out on his chance. I don't give a fuck about that shit." When pressed for further comment, he said, "I don't give a fuck, man. … That man ain't on my mind."
Time stamp: 1:55:00
YoungBoy has garnered hundreds of millions of views on YouTube across both solo tracks and collaborations, but he said he's "never" made money from the platform despite his success there. When discussing contracts and royalties, YB noted his income from YouTube has been less than satisfactory.
"I think as you…you learn how badly you've been taken advantage of," he said. "I never got paid for YouTube a day in my life. N***as make all the money off my YouTube, and then give me a small percentage of my shit. All that shit slavery or something. But you know, that's what we signed up for in this business."
It's been established that YouTube pays considerably less in royalties than Spotify, Apple Music, and Tidal.
Time stamp: 1:57:00
There's been much speculation about whether YoungBoy has fulfilled his contract with Atlantic following the release of Sincerely, Kentrell. YB clarified that he's still under contract for at least one more album.
"I wish," he said when asked if he completed his contact. "I got one more album, Ak. ... Probably drop one more mixtape, then I'ma drop my album and it's over with."
Regardless of what deal Atlantic might offer to keep him, he said, "They ain't gonna come back to me, because I ain't trying to hear shit they got to say." He insisted the label won't be interested in doing things the way he wants, so there's no interest in carrying on together.
Time stamp: 2:06:00
YoungBoy got his big break with the help of Mike Caren of Artist Partner Group, who has also worked with the likes of Kehlani and Kevin Gates. Aside from Birdman, YB said Caren is the only person in the music industry he's game to sign with again.
"Other than being a free-agent, or being signed to Stunna, I don't wanna do no business with nobody but Mike Caren," he said. "I feel like, Mike gonna support me. ... He was open to my ideas, he didn't try to control the artist or the way I present myself."
As for the rest of the industry, NBA YoungBoy concluded, "Fuck all them other people, man." If the opportunity to sign to Cash Money under Birdman comes up, he said he'll take the deal, stipulating that "all I know is I'm NBA before anything."
Time stamp: 2:10:10
"Fuck all that shit, Ak, I'm trying to get married," said YoungBoy, who has been dating Jazlyn Mychelle since at least early 2021. "I been wanting to get married since I was 18. I'm dead serious, on my kids." He said he wants to have a "big, beautiful private wedding" on a beach rather than in a church. He wants to make sure he has a prenup and get married as soon as it makes sense.
YoungBoy Never Broke Again is believed to have seven children, and he made his thoughts clear when it was suggested some people think he has "too many" children. "Man, whoever criticize me for having too many kids can eat my dick," he said. "As long as my kids are financially stable, and get the same love out of me equally, you can't tell me shit about me and my kids. They ain't got nothing to do with you anyway."
Time stamp: 2:23:30
YoungBoy isn't known for doing a huge amount of collaborations, particularly on his own projects, and when asked if he pictures himself on a song with Drake, he appeared doubtful.
"I don't know, I don't see it happening," he said. "I fuck with him—if it happen, it happen. But I don't see no shit like that happening." 
Earlier this year, Akademiks claimed J. Cole waited in the studio for YoungBoy for "eight hours." When the topic of Cole was brought up, YoungBoy refuted the claim and explained what actually went down. 
"They lied and said I stood J. Cole up," he said. "That wasn't even the case. I was mad, I was going through something, so what the fuck I'ma go in this man's studio session for a meet-up with him, knowing that I ain't in a mode to talk or just to be in the mood to fuck around. … What the fuck I'ma go around this man if I know I ain't in a mood to talk to nobody or sit there, or even be around somebody."
He was asked if he ever spoke to J. Cole about the rumor, and gave a stern no. "That man don't give a fuck about this shit," he said.