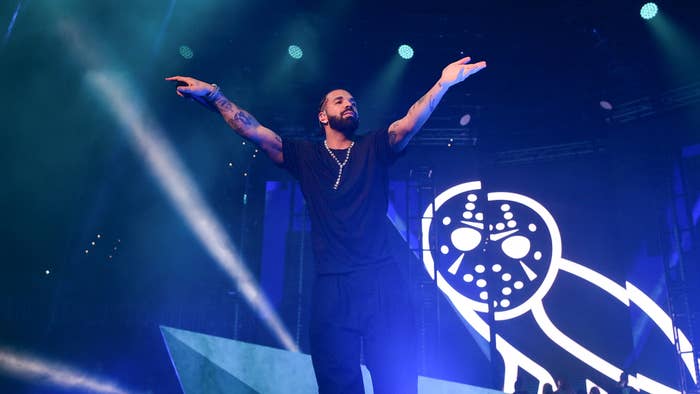 And the trend continues.
During a recent performance at the Capitol One Arena in Washington, DC, Drake was left shocked by the size of a bra someone threw on stage, which has become a bit of a thing during his latest tour.
Between songs, Drizzy noticed yet another bra landed on the stage, but he wasn't quite prepared for its size. "36L?! L? How many letters does it go up to?" he asked the audience, clearly bewildered by the size of the bra. "What comes after... A, B, C, D, E, F, G, H, I, J, K, L?! There's another one over there that looks big, but—we'll talk about it later, I gotta talk to you personally. ... L?!"
He them walked over to another bra that looked equally as big.
"This is crazy, this can't be real. Whose is this? This not real, whose is this? Where did this come from?" Drake joked to the frenzied crowd. "State your name, immediately! Nah, this is custom work right here."
The moment came after he picked up another bra earlier in the week, which he noted was potentially the new record for a bra size during the It's All a Blur tour. "Okay, we might have a record," he said when he picked up the bra. "Oh, we definitely do. It's a 42H. Whose is it? Dayum. Current record holder right here, we might have to get you a gift bag or something. This is getting out of control for real."
Drake's tour with 21 Savage has been heavy on the bra-reactions so far. It appears as though at least one pair gets a huge reaction out of him each show, and in one instance, it even led to a woman getting an offer from Playboy.
During a stop at Brooklyn's Barclays Center, a 36G bra landed near the rapper, prompting Drake to reply, "Locate this woman immediately!" Shortly after a video of the moment went viral, the woman identified herself as Veronica Correia.
"It's me!" Veronica said in a follow-up video while also showing a clip of her throwing it. "I threw it and he picked that shit up and said, "36G, find this girl immediately!'" In an interview with TMZ, she added, "I went to Drake's concert with no intention of really throwing my bra. ... I had mentioned it but I was like, 'No, this is the one I'm gonna wear for the night. I'm gonna keep it on. Then I was having a little fun and he came past me and walked to the DJ booth where he was really singing right in front of me, and I was like, 'You know what? Yeah I'm gonna do it.'"