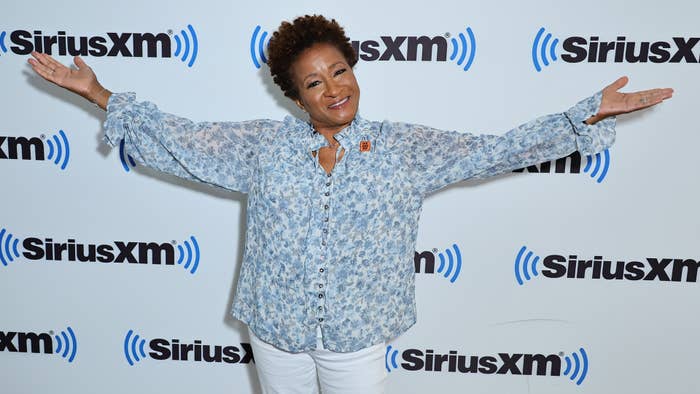 To coincide with the release of her new Netflix stand-up special, I'm an Entertainer, comedian Wanda Sykes offered her thoughts on Dave Chappelle's "hurtful" material about the transgender community.
In an interview with Variety, Sykes said that the trans community has her support and was asked if her stand-up "balances out" Chappelle's take on the subject. "I don't know about balancing it out, because I think what he said was so hurtful and damaging to the trans community," she said. "So yeah, the scale is still tipped, I will say, in their favor. But I know I wanted to say something because so much has been said on that platform. I definitely want to [do] something on the other side of it."
Sykes got her start in stand-up around the same time Chappelle did in Washington D.C., and as she put it, they "go way back." She hasn't had an opportunity to talk to him about his trans material, which has faced criticism and sparked an employee walkout at Netflix.
"I mean, it's not intentional—you know, I still love the guy," Sykes added. "But I haven't had a chance to talk to him. If our paths did cross, I totally would say something."
Sykes, who is one of the most prominent lesbian comedians in the United States, has material in her latest special which tackles the subject of banning trans women from women's bathrooms. "I'm not trans, but they have my support, 100%. I wanted to find something where I can shine some light on what they're going through, to show how just stupid and hateful really it is," she explained. "I was in a woman's bathroom one time, and I was like, 'Who would want to come in here anyway? It was like, I kind of want to go check out the men's room. Sometimes, it's even cleaner.' And that's how that whole bit started. I've always just been grossed out by bathrooms."
Elsewhere in the interview, Sykes touched on the subject of "woke comedy" and the backlash against anything labeled as such. "If you want to give me the label of a 'woke comic,' that's fine. That's great," she said. "What makes me laugh is that they say that like it's an insult: 'Oh, they're woke.' Thank you! Yeah, I read some stuff from time to time. Yeah, I know a few things. It's not an insult at all. I mean, George Carlin, he was woke. Richard Pryor, woke. Bill Hicks, woke. It's almost like they're angry that we're evolving. It's sad, really."
Throughout her career, Sykes has seen plenty of homophobic material from comics, and said that in general, people used to "get away with" a lot more. "But you know, in this country, they would hold public lynchings and people would have picnics and eat potato salad while watching," she added. "We're evolving. We're getting better."
I'm an Entertainer is available to stream on Netflix now.