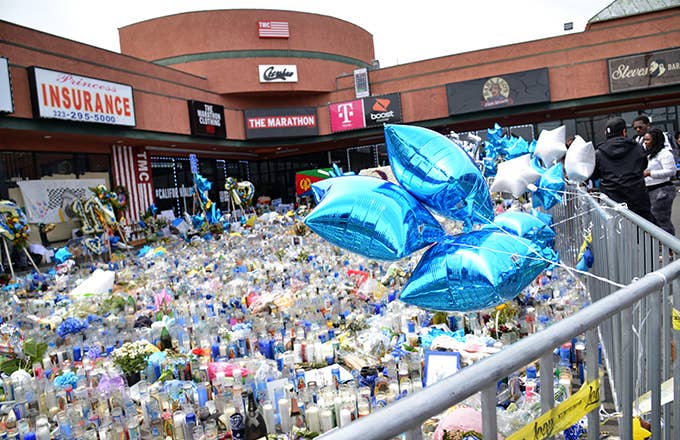 Following an emotional memorial service at Staples Center on Thursday, celebrities and fans alike flocked to Nipsey Hussle's Marathon Clothing store. Customers arrived in droves to show support for the deceased West Coast legend. Nip's most famous collaborators and appreciators were among them.
As TMZ reports, Meek Mill, the Game, T.I., 2 Chainz, J.R. Smith, DeMar DeRozan, and Al Harrington were all turning up to drop a lot of money at the Marathon store. In fact, a good chunk of the items sold at the store were completely out of stock because they were buying so much. They were offered free items just for all the love they've shown Nip throughout his career, but they refused to take anything without paying first.
The store looks barren in Meek Mill's Instagram clip. The spot has become a huge tribute spot for fans and friends to pay their respects.
Snoop Dogg, YG, Lauren London, and Stevie Wonder were among those to celebrate Nipsey's legacy during Thursday's memorial service.. Former president Barack Obama even sent a letter to be read during the service, commending all the work Nip did for his community. Kendrick Lamar and JAY-Z also penned emotional letters to show how much they respected him.