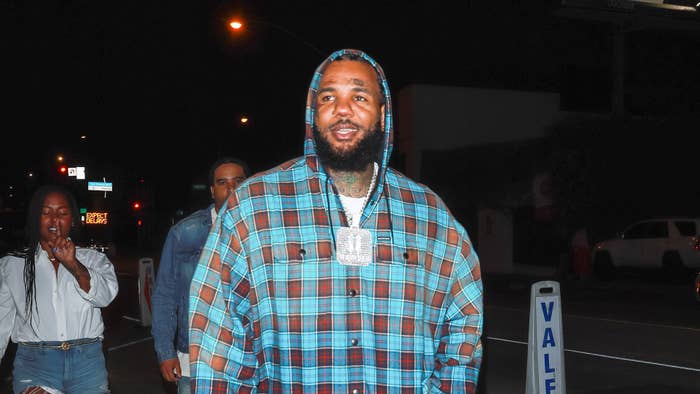 The Game's new album Drillmatic: Heart Vs. Mind features plenty of high-profile guests, but it's his fiery track "The Black Slim Shady" that will really have fans talking.
The track, which very obviously references Eminem's breakout hit "My Name Is," sees the West Coast MC name drop a long list of artists. Most of the track, however, is spent targeting Em, with countless references to the rapper's discography. He's clearly trying to provoke a reaction from Eminem and even mentions his 26-year-old daughter Hailie Jade. 
"I killed Dr. Dre in my basement last night/I was wasted last night, I went ape shit last night," Game opens the second verse, in a reference to Em's "The Real Slim Shady." Before getting to the third verse, he goes on a short interlude in a conversation with an Uber driver in which he interpolates Shady's "Stan."
"Crazy story behind it, my brother Stan, rest in peace...he gave me this hat 22 years ago...Eminem, he used to be like this rap god," he says as the brother of Stanley Mitchell during the interlude, in which he also remarks that he "don't really like any of his new stuff."
"So ficky-ficky Slim Shady, please, stand up/Shoot the fade with me, I'd love to put these hands up," the 42-year-old spits. "I could .40 Glock you, unarmed/Drop the world on your head with one arm/Dear Slim, Hailie's with me and she's unharmed—for now." 
In the extensive final verse, Game name drops 50 Cent in another reference to "Stan." (He suggested in April that he was more interesting in coming for Marshall because Game's longtime rival 50 Cent "can't rap.")
"You done pissed off Jimmy, Universal, and Interscope/Know I got Jimmy, Slim, 50, and Universal in a scope," he raps. "Let's get this all together, the picture was ripped, I fixed it/But none with me, you, and 50, let's stitch this shit all together/You like, Slim?/I made it just for you/I even kidnapped Stan's brother and baited him here for you/But you would just say 'no'/Probably leave us in the blistering cold/God made you damn near perfect, he just missed your soul/You ain't the shell of who you used to be."
As the song comes to an end, the Game encourages Em to link up with Dr. Dre once again and thanks "MGK, UGK, Tech N9ne." In a brief outro, he closes, "Mr Shady, don't be shady/Pick that pen up, don't be lazy/Call up Dre and get that Dre beat/Jump offstage if shit get crazy."
Elsewhere on "The Black Slim Shady," Game makes references to Frank Ocean, 6ix9ine, Saweetie, Lizzo, and E-40. "I'm with Canadians in Drake's House," he also raps.
The Game hasn't minced his words when it comes to Em this year, suggesting he's the "better rapper" last spring. Stream "The Black Slim Shady" below, and catch Drillmatic: Heart vs. Mind here.