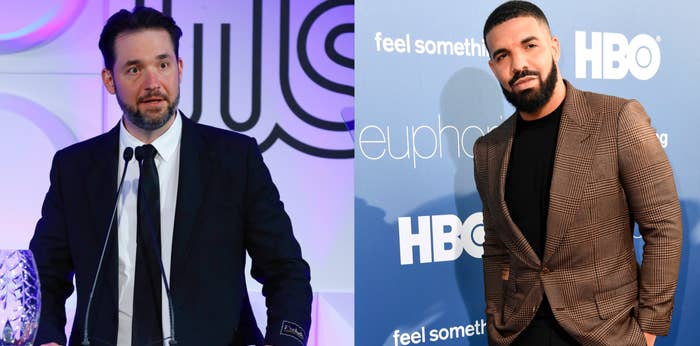 Serena Williams' husband Alexis Ohanian has responded to Drake after the rapper called him a "groupie" on his Her Loss song "Middle of the Ocean."
In a tweet on Friday, Ohanian shared his thoughts on Drizzy—who was connected to the tennis superstar at various points—rhyming, "Sidebar, Serena, your husband a groupie/He claim we don't got a problem but/No, boo, it is, like you comin' for sushi/We might pop up on 'em at will like Suzuki." The bars arrive on one of several solo tracks on the otherwise collaborative album with 21 Savage.
"I've been turning down media profiles for the last two years," wrote Ohanian, who said he's been focusing on numerous projects. "It's cliche, but life changed when I became a husband + papa. It's made me 100x better as a man and a businessman. In @serenawilliams I found a partner I knew I would never outgrow, who would always motivate me to be greater."
When wrapping up the series of tweets, Ohanian slyly offered his response to Drake.
"The reason I stay winning is because I'm relentless about being the best at whatever I do—including being the best groupie for my wife & daughter," wrote Ohanian at the end of the thread.
Williams replied to her husband's tweet with a series of smiling face with hearts emojis.
Drake has long been a supporter of Williams, and they were even rumored to be romantically involved years ago. She later married Reddit co-founder Ohanian in 2017, just under a year after they announced their engagement. The couple welcomed their first child together, Alexis Olympia Ohanian Jr., the same year they tied the knot. 
"Middle of the Ocean" isn't the only song on Her Loss to raise eyebrows. Megan Thee Stallion responded to "Circo Loco"—which also references Drake's past beef with Kanye—after he seemingly referenced her getting shot by Tory Lanez. He also got flack from DRAM, who called Drizzy out over a reference to his song "Cha-Cha" and its "Hotline Bling" similarities.