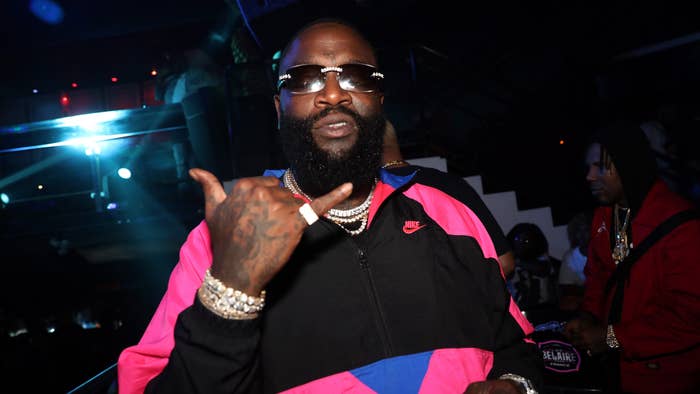 UPDATED 09/25, 7:15 p.m. ET: Tory Lanez responded via Twitter to Rick Ross' video where he clowned him for releasing the 'Daystar' project in light of Meg's shooting. 
"I respect u 2 much as a black man to disrespect you in these times,however I went out and marched 9 DAYS STRAIT for Breonna Taylor ..IN YOUR CITY ...I didn't see the "boss" out there once ," Tory tweetd. "...also stop tagging your endorsements in post about her . It's a poor decision @RickRoss"
Ross fired back shortly after in a series of Instagram story posts.
"First off, lil boy, I appreciate how you responded swiftly to Rozay, but that's how you should've did the sister that accused you of shooting," Ross said. "That's what you owed her family, that's what you owed all the Black women in America."
Ross also addressed Tory's claim that he was present at the protests for Breonna Taylor in Miami and didn't see Ross there.
"But more importantly, let's get to you protesting," Ross began. "You ain't protest in Miami, the only reason you was out there was cause the condo that you stayed in $1,500 a month and the dam protest was coming right down there, so you went down there and took a photo opp... Poor decisions is putting together an album and trying to profit off some shit that people like myself was wishing to hear you address this shit and move on. Not get a wax on or a wack album that's ain't gonna get you no money, nor no new supporters. So lil boy, boss up."
See original story below. 
Rick Ross, like many others, is not impressed with Tory Lanez and his surprise new project Daystar, especially considering the timing.
On the record, Tory addressed the Megan Thee Stallion shooting incident, claiming that he didn't shoot her despite what she said about the situation. It also arrives just one day after officers who shot Breonna Taylor were exonerated of her murder. Needless to say, Rick Ross joins the crowd of people holding Tory Lanez to his accountability of disrespecting Black women.
"Tory Lanez, poor decision brother," he said in the first of a series of Instagram Story posts. "Dropping that project... Just outta respect for Breonna Taylor, bruh, we gotta respect these sisters. That ain't how you address the accusations you facing. That was a poor choice, homie. You ain't getting no money with that shit."
After addressing Tory Lanez more seriously, he decided to clown him in a second video. "Ay, I just bought a car for Tory Lanez, I got a gift for your album release homie," he said while showing off a Smart Car. "Heard your shit just went double acrylic on Dat Piff." 
Rick Ross previously collaborated with Tory lanez on the song "Super Freak," but it's hard to imagine them working together ever again now.