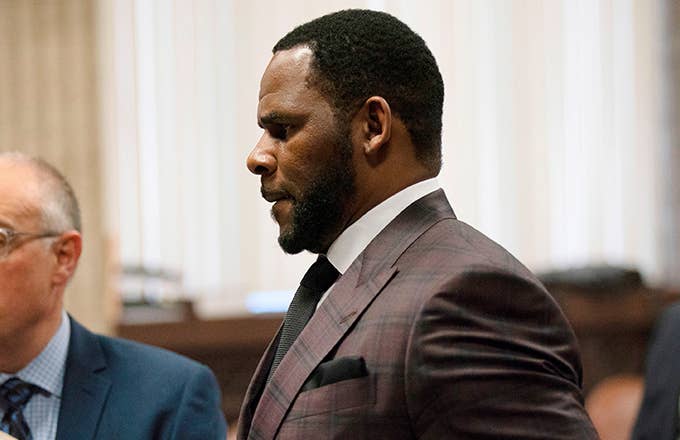 UPDATED 11/24 at 9:20 a.m. ET: One of R. Kelly's lawyers, attorney Steve Greenberg, claimed that the singer's legal team looked into the Instagram account that revealed Joycelyn Savage's alleged account of her relationship Kelly. After a short investigation, they were unable to confirm that the account was being run by the 24-year-old.
Kelly is also trying to discredit Savage's abuse allegations by accusing her of leaving when his money ran out, The Blast reports.
While Kelly's legal team has been trying to push the narrative that he's broke for the past year, court documents say otherwise. Prosecutors have told the court that Kelly was hiding hundreds of thousands in music royalties, payments which they believe he has redirected to a childhood friend's bank account.
Prosecutors told the court, "The defendant continues to receive hundreds of thousands of dollars in connection with royalties he is owed for his music." They continued, "Regardless of where those funds are being held… they belong to the defendant and, at any time, the defendant can redirect those funds—and future royalty proceeds earned—to an account in his name."
See original story below.
After indicating that she was fully on board in defending disgraced Chicago singer R. Kelly, alleged sex slave Joycelyn Savage has changed her tune. The 24-year-old, who has had her parents plea for her to come home, has frequently been identified as one of Kelly's several girlfriends. She has, until now, continually vouched for 52-year-old Kelly's innocence. In a blog post shared on her Patreon titled "Where It All Started," she has started to detail how she met R. Kelly and what went wrong from there.
On Instagram, she hinted at some news on the way. "There's something I need to reveal, something I've should've [sic] talked about a long time ago," she wrote. In her second Instagram post, she revealed she would be posting "daily chapters" of her story on Patreon.
"Things I am going to reveal that was sweared not to see the day of light—by NDA," she added alongside a video soundtracked by Lizzo's "Truth Hurts." "I am risking my life for many others. ‪This story is 18+ and only for mature audience, I want to make sure my story is very detailed as I can remember."
In the blog post, which is behind a paywall, Savage said she first Kelly him at a concert when she was 17. While she admitted she had fun, she added that she came away from the experience with "mixed emotions." As TMZ reports via Daily Beast, Kelly allegedly promised her a music career and even wanted to make her "the next Aaliyah."
Amid the budding relationship, Savage dropped out of college in order to move in with him. From there, the situation soured relatively quickly. Kelly became increasingly controlling of her. "After these couple of months Robert started giving me commands, and making sure I call him by certain names. Like 'Master' or 'Daddy' which I didn't really care for at the time." She continued, "If I wasn't getting paid or pursuing my dream I would've went home, but all of that didn't stop just yet."
Even more disturbing, Kelly would allegedly raise his vocie at her if she didn't refer to him as either of those names. "If Robert called me I would have to reply with 'Yes, daddy' or 'Please daddy' he was so controlling," she added. When she suggested she might leave him behind or even talking to her parents, Kelly allegedly threatened to ruin her life.