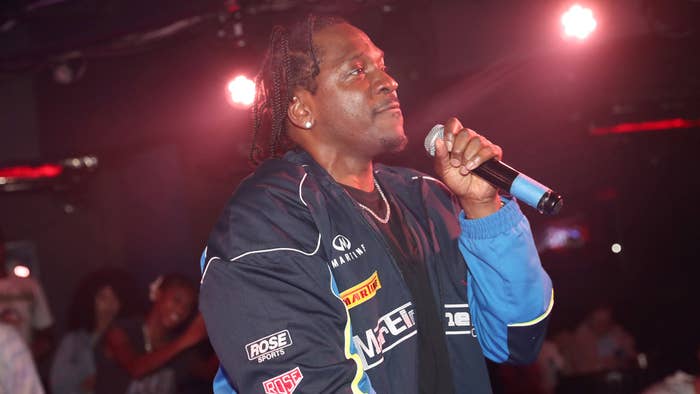 During his concert on Tuesday, Pusha-T spoke about about his critically acclaimed No. 1 album, It's Almost Dry.
King Push is currently on tour in support of his latest record, which is his first to debut at No. 1 on the Billboard 200 album chart. The legendary Clipse rapper has clearly been feeling himself as of late, and during a show at the Novo in Los Angeles he declared his record the best rap album of 2022.
"It's Almost Dry; rap album of the motherfucking year," he said to the crowd. "They can't fuck with me!"
When Complex interviewed Steven Victor earlier this year, Pusha-T proclaimed that he was gearing up to release "the album of the motherfucking year." He said that while the album took a while to come together, "ain't nothing fucking with it" once he wrapped production on it. "I'm on some one thousand rap superhero shit, man," he added. It's Almost Dry was just named Complex's second-best album of the year so far.
In a recent cover story with NME, Push shared his thoughts on aging rappers who either retired from music early or faded into obscurity, and suggested that he's in it for the long-haul. "A lot of our forefathers, the greats, they didn't stand the test of time," said Pusha. "As great as they were, I don't know how much they are [still] appreciated. [I want] to show that rap doesn't have to age out. When people look at me, they need to understand that I can do this forever."