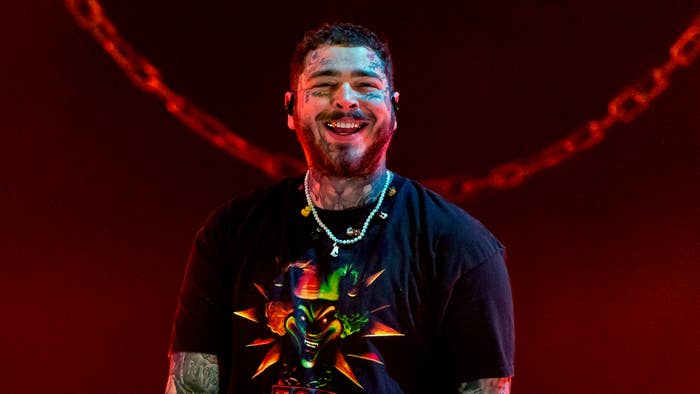 Post Malone is set to release his fourth studio album this year, but he's not too stressed about the record's chart performance when it does arrive.
In a new Billboard cover story, Post spoke about his new album, tentatively titled Twelve Carat Toothache, and said he's not interested in artificially extending the length of his project to guarantee it lands at No. 1. "Trying to shove 20 to 25 songs, it doesn't work. Talking to the label [it's like], 'Oh, if you have less songs, you're not going to stream as much,' but the whole thing is that you don't want to compromise your art and your gut vibe on anything," he said. Post's previous two albums, 2019's Hollywood's Bleeding and 2018's Beerbongs & Bentleys, included 17 and 18 tracks, respectively.
"I've made a lot of compromises, especially musically, but now I don't feel like I want to anymore," he continued. "I don't need a No. 1; that doesn't matter to me no more, and at a point, it did."
Post Malone's manager Dre London indicated earlier this month they've had some disputes with his record label, Republic. "Album has been done," wrote Dre, implying the label is holding up its release.
Posty said his new album is set to run 45 minutes, making it his shortest full-length to date. He described the songs as tackling "how I'm feeling at the moment: the ups and downs and the disarray and the bipolar aspect of being an artist in the mainstream." 
Elsewhere in the profile, London said he's considered booking a co-headlining stadium tour for Malone and the Weeknd, with whom the artist recently collaborated on "One Right Now." However, he said he wants to "wait until 2023" for such a tour. "We'd rather make another moment out of it," London added. "So people can really dive in."
Read the full Billboard feature here.