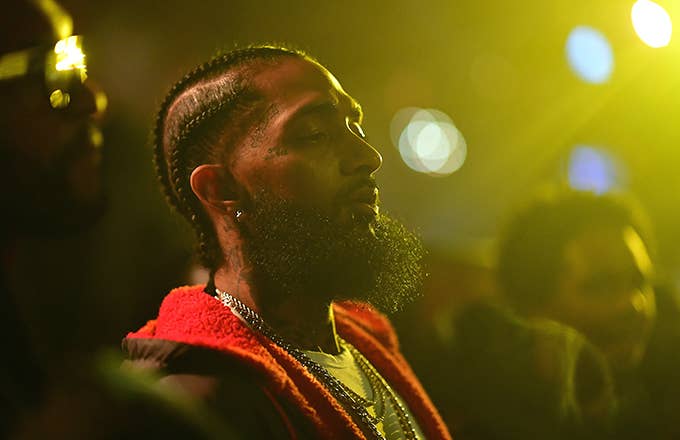 Nipsey Hussle's longtime partner, Lauren London, announced on Friday that the area surrounding Nip's Marathon Clothing store will be shut down until further notice to allow for the construction of a tower in tribute to the late rapper. Reports first started to circulate on Thursday that a chain link fence had been placed around the area, which London confirmed on Instagram.
"As a notice to the public, we're putting up a gate on Thursday, August 1st, 2019 to enclose the plaza at 3420 W. Slauson Ave to start the early development stages of the forthcoming Nipsey Hussle Tower to commemorate [sic] and honor the life and legacy of Nipsey," London revealed. "The Marathon Store will remain closed, but you can shop online at TheMarathonClothing.com. Thank you."
It was recently confirmed by the Marathon Clothing Instagram account that there would not be a celebratory event hosted at the store for Nip's birthday, Aug. 15. The LAPD will reportedly be on high alert around that time, upping the police presence in the general vicinity of the store, which is where Nip was gunned down. It is unclear if the tower will be ready in time for what would have been his 34th birthday.
London recently penned a loving tribute to Nip's sister Samantha in honor of her birthday. "The English language is too premature to articulate and illustrate my Love for you," Lauren London wrote. "My dear baby sister, we are walking the darkest of tunnels together. I have your back , front, and both sides. We are bonded through love and blood for Life and even after our physical forms transcend. Happy Birthday to my magical baby sister Sammy @babyyhairz I Got U and God Got Us."