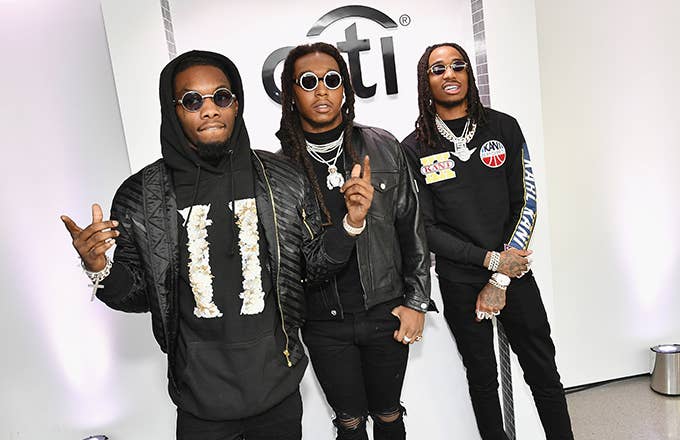 Despite not walking away with a Grammy, Migos are on top of the world right now. They've already promised big things for the rest of 2018, teasing music with Kanye West and hinting at solo projects, and this all comes just days after the release of their latest album, Culture II. Now Billboard is reporting they'll have even more to celebrate in the coming days, with Culture II forecasted to debut at No. 1 on the Billboard 200.
The album only dropped last week on January 26, but it's raked in some incredibly impressive numbers. Billboard says that Culture II is expected to move between 180,000 and 200,000 equivalent album units in the week ending February 1, with the majority of that number coming from streams. The top 10 of the February 10, 2018-dated Billboard 200 chart will be revealed on February 4, and Culture II is likely to land at the top spot.
Exactly one year ago with their previous album, Culture, Migos achieved the same feat. Nielsen Music reported the album as raking in 131,000 units at the time, with 44,000 of which were traditional album sales. That means Culture II is expected to make an even bigger splash when the charts are revealed at the end of the week, topping its predecessor by over 50,000 units. If Culture II does land at the No. 1 spot, it would make Migos the fifth rap group with more than one No. 1 album, following in the footsteps of the Beastie Boys, A Tribe Called Quest, Bone Thugs-N-Harmony, and D12.