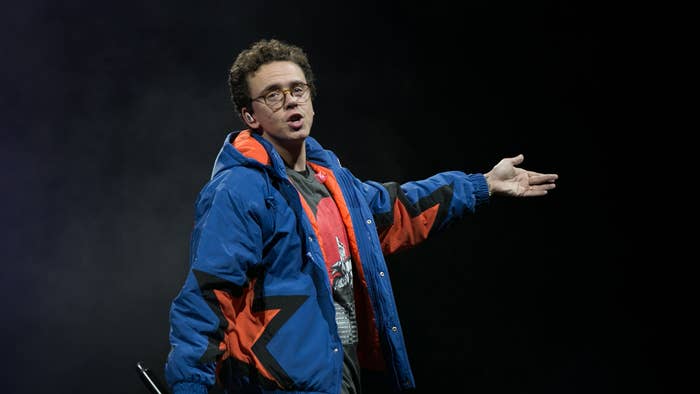 Logic has broke his social media absence to confirm that he's a father, and that fans can expect more music soon.
Now a married man again, the Confessions of a Dangerous Mind rapper has a new record on the way that's tentatively titled No Pressure. Posting on Reddit, he revealed he's been busy working on the project and more since he's been stuck in quarantine on account of the coronavirus pandemic.
"Breaking my social media rule for a second to tell you guys I love you so much and just been in such a creative zone working on everything to come," Logic wrote on the sub-Reddit dedicated to him. "You know me, I'm five projects and two movies ahead at all times lol/ I hope you're all being safe during this pandemic. Know that my heart is with you. I love you all and am excited for no pressure. Bars on bars on bars."
Last year, Logic dropped "No Pressure Freestyle," which saw him announce that he had a child on the way. In his update on Reddit, he confirmed that his wife Brittney Noell gave birth to a baby boy. "This new perspective of life has been amazing. Mainly spending time with family and little Bobby and just cooking up," he continued. "RattPack is the best fanbase in the world. This break from the internet has been absolutely incredible but I wanted to let you know how much I appreciate you all."
He also gave fans an indication of what to expect from his next project, hinting that it sees him going back to his roots. "It's just so fun experimenting and having fun with all music," he added. "But this next one is back to the roots for sure and I can't wait for you to hear it when the time is right. Little Bobby boy is so cute and the most adorable little man in da worlds! Lol seriously tho, keep supporting and know I'm always here to be that voice." Erich "Sermon" Donaldson, who works for Logic's label Visionary Music Group, confirmed Logic's comments are legit.
Logic has no offered a release date for No Pressure just yet, but he's indicated that it won't be long until fans get to hear more music from him.