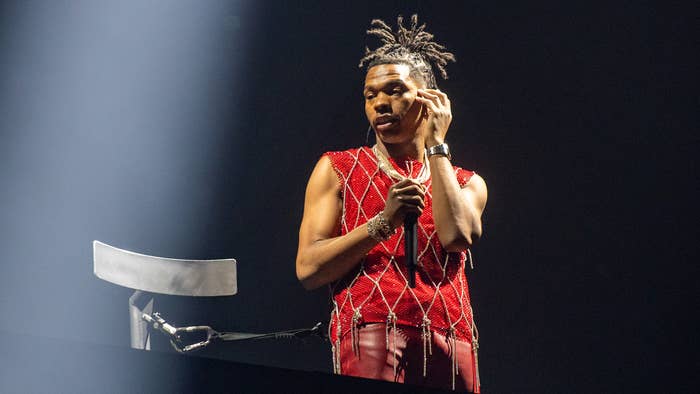 UPDATED 9/8, 5:30 p.m. ET: The victim who was reportedly listed as critically injured following a shooting at a Lil Baby concert this week has been identified as rapper CEO Jizzle, per TMZ. The outlet notes that Jizzle is a Memphis-based rapper and part of Young Dolph's Paper Route Empire group.
Video of the rapper seemingly addressing the shooting made its rounds on social media. "Ain't no way Imma let a fuck boy take me out," he said from a hospital bed. "I'm in pain like a motherfucker but Jizzle good."
He added, "Don't pray for me. Well, you can pray for me—pray for the opps ten times harder, ya heard me."
Memphis police are still investigating how someone was able to enter FedExForum with a weapon. No other injuries have been reported and it's likely that the shooting was targeted, according to TMZ.
See original story below
One person has been critically injured in a shooting that happened during a Lil Baby concert at the FedExForum in Memphis, Tennessee on Thursday, Sept. 7.
As reported by ABC News via WREG, the Memphis Police Department responded to reports of a shooting at approximately 10:23 p.m. on Thursday. An unidentified male victim was taken to Regional One Health Medical Center suffering from gunshot wounds, although no further injuries were reported. Authorities haven't identified the shooter and an investigation is ongoing.
When the shot rang out in the 19,000-seat arena, Lil Baby was taken offstage by security in the middle of a song.
Concertgoer Clarissa Johnson told WREG that she heard "a pop" during the show, which caused panic among the crowd. "I'm not sure what happened but I had a suite, so I told all my crew, 'get down,'" she added. "So we evacuated. Once we evacuated, did a head count. I'm still not sure what happened."
Lil Baby shared on Twitter that his Memphis fans would get a refund after the unforunate incident.
Lil Baby kicked off his nationwide tour in July, but it hasn't gone off without a hitch so far. The lineup for the shows feature a number of support acts, including GloRilla, Rylo Rodriguez, Hunxho, and Gloss Up. Australian artist The Kid LAROI was also set to perform, but he dropped out of the tour last-minute for unexplained reasons.
His decision came after Lil Baby canceled a number of dates on the tour without explaining, although some fans theorized it was due to low ticket sales. Shows in Phoenix, Sacramento, Salt Lake City, Denver, Indianapolis, Louisville, and Pittsburgh all got canceled.