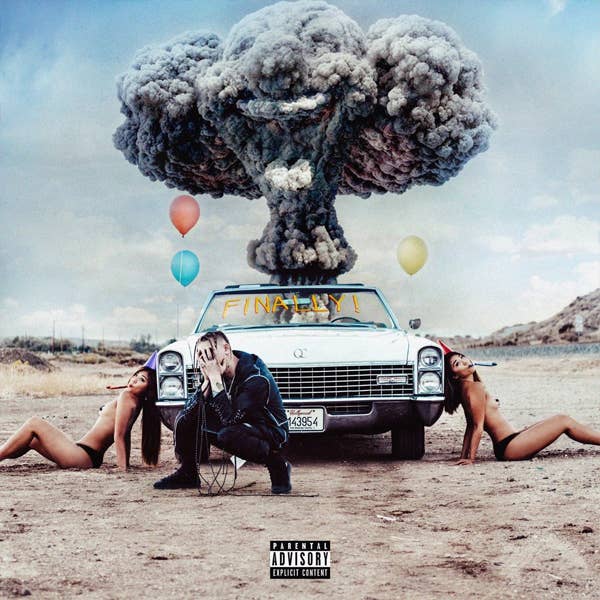 Quality Control signee Jordan Hollywood is ready to take over, and he's got some notable people backing him up. On his newly released EP, which features Lil Baby and Ronny J, he makes it clear he's out to prove himself with his most important release to date.
Speaking about the 13-track release via email, Hollywood told Complex FINALLY is "an explosion built up for the longest time." He added, "I've been through so much in my life, especially with my career. I've been in fucked up situations. I've been fucked over by people I trusted and loved. And for the first time in my life, I just feel like everything is exactly how I want it to be."
Hollywood made sure to clarify that despite this level of comfort, he plans to continue pushing himself. "I don't mean from a success standpoint at all because I'll never be satisfied with where I am until I'm the biggest artist In the game," he said. "The biggest thing for me is that I'm finally in a situation where I can create freely and have a platform to put my music out on a major scale for the first time in my career."
"I haven't dropped a project since 2016. I'm in the studio every day literally," he explained. "I'm never not recording. I made over 200 songs the last two years and this project only has 13 songs on it. I had to sit down and pick 13 songs out of 200. Some songs were recorded in 2016 some songs were recorded last week. You get a little bit of everything on this project. "
Considering just how productive he's been, expect to hear a lot more from him in the future. Earlier this year, Quality Control bosses Coach K and Pee announced that Hollywood had signed to the label, with K saying at the time, "Jordan is a very talented, creative artist who's very in tuned with the process of being great. I'm excited for the world to experience his work."
Check out the video for "Leave Me" below and grab FINALLY here.