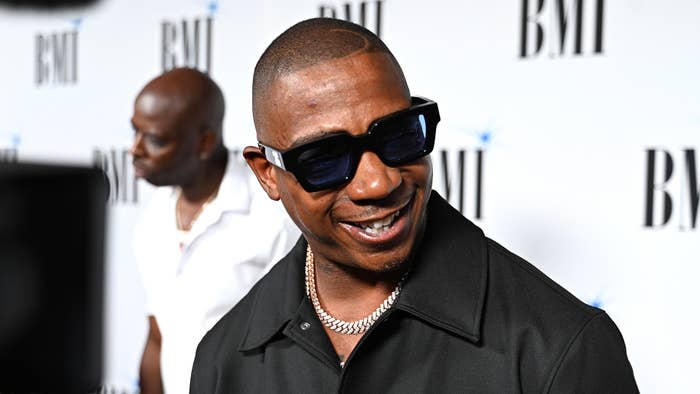 Ja Rule has some words for 50 Cent after he injured a fan by throwing a microphone during a recent concert.
In a since-deleted series of posts shared on Instagram, per TMZ, Ja Rule shared videos of the moment Fif threw a microphone into the crowd, hitting Power 106's Bryhana Monegain. "We ain't forget… Enjoy those criminal charges and lawsuit d***head!!!" he wrote, while also including a photo of Monegain's facial injuries.
Ja Rule's comments come not long after 50 Cent clowned Ja Rule for his choice of performance visuals, which he perceived as a sort of Jesus-style crucifixion. "Look at this shit head, is he supposed to be Jesus. 😆 WTF you can't make this shit up," wrote 50 Cent in response to the video, which showed Ja Rule performing topless while tied to a wooden column with his hands above his head. "LOL so stupid !"
Ja Rule isn't the only rapper to criticize 50 Cent for injuring a fan. "Curtis, your fat ass came to L.A. hittin' women," wrote the Game wrote across several screenshots. 50 Cent is now a suspect in a criminal felony battery report on account of the incident, which left Monegain bloodied as a result of her injuries.
50 Cent's friend DJ Envy, however, believes it was an honest mistake. "It's a terrible situation. I mean, there's no way in hell 50 would... Everybody sees this big bully online but he's the nicest and [most] caring person, so I know it was probably an accident," he told TMZ. "I know it was an accident. I mean, things happen. The sound man seemed like they messed up with the sound and, I mean, 50 wasn't aiming for her."