9 Things We Learned From Fetty Wap's 'Off the Record' Interview With DJ Akademiks
"Trap Queen" rapper Fetty Wap sat down for a lengthy conversation with DJ Akademiks to talk about what he's been up to for the past few years.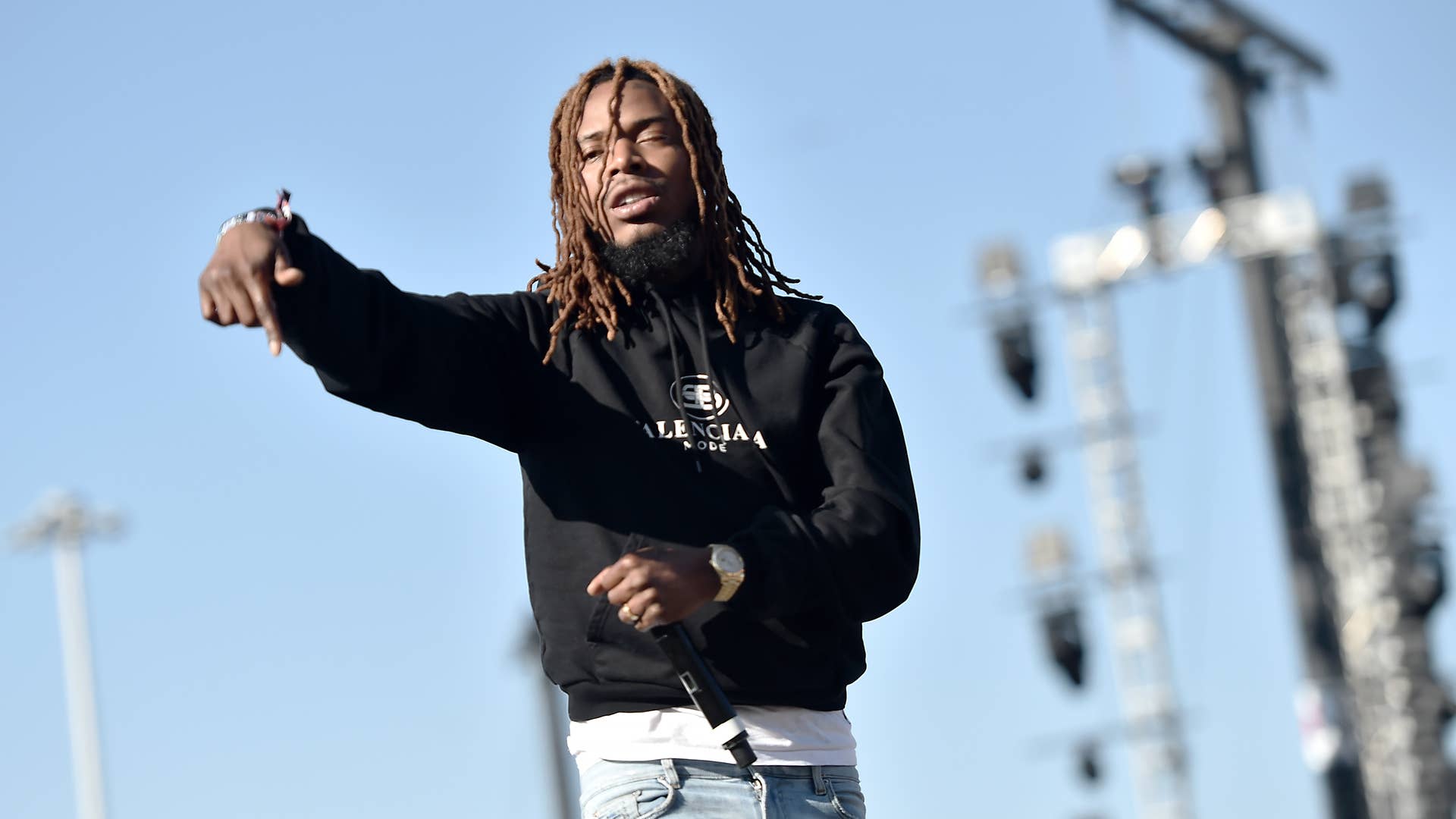 Getty
Image via Getty/Steven Ferdman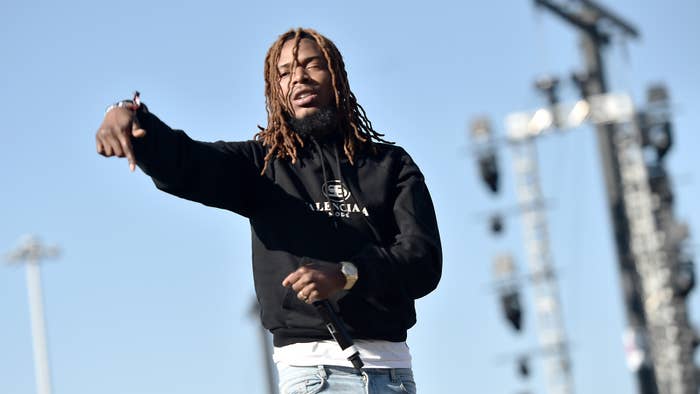 Amid his ongoing legal issues, "Trap Queen" rapper Fetty Wap sat down for a two-and-a-half-hour conversation with DJ Akademiks to talk about what he's been up to for the past few years.
Appearing on the latest episode of the Off the Record podcast, Fetty spoke about issues he's had with his label 300 Entertainment, financial problems he faced after attaining notoriety, the defamation lawsuit filed by his former assistant, and why he ultimately decided to leave Drake off his debut album. 
After jumping onto the scene in 2014 with his diamond-certified single "Trap Queen," Fetty kept the momentum going with his No. 1 self-titled album and singles such as "My Way." In recent years, he's kept a lower profile, which is something that he goes into during his chat with Ak. 
What Fetty doesn't talk about, however, is his recent arrests. In October, he was detained on federal drug charges for his alleged involvment in a drug distribution ring. Earlier this month, the 30-year-old was arrested at Newark Liberty International Airport on an outstanding warrant in connection to a public nuisance charge. 
"After I handle my situation, I don't really see myself doing music that much anymore," he told Ak near the end of their chat, alluding to his legal issues. "I did a lot of songs already that I feel, it's really good, I put a lot of time into these records. I'm just ready to live my life, bro, whatever the fuck it is." 
Check out some of the biggest takeaways from the interview below.
Time stamp: 21:00
"Trap Queen," which Fetty said was the third song he ever recorded, led to a rush of labels looking to sign him. When asked why he chose 300 Entertainment, Wap told Akademiks he didn't make the decision to join the 300 family.
"It wasn't my decision to be like, 'Let's go with them,'" he explained. "I didn't know really too much about the music industry or how this really goes, or how the contract goes or anything like that. It was like, this is what my management do, I'm loyal to him, that's what we're doing. We went up there, they had their conversation, they listened to the music, and I remember vividly they was like, 'We don't know if the rest of the songs gonna go.'"
He said that ultimately 300 "didn't believe in my shit at all," and when he signed with them he did so "for like 50 bands." This was during the success of "Trap Queen," too, he noted. "Because they didn't believe in it," he added. "The recoup after that, that's when the big bag came. … It was super fast." 
His most recent album, October's The Butterfly Effect, was released through 300 Entertainment and RGF Entertainment.
Time stamps: 24:00, 28:20, 31:40
Fetty has gotten a reputation for his generosity, and he revealed that since the success of "Trap Queen" he's bought a total of 72 cars for friends and family. He said his frivolous spending on others might have been one of the reasons he "fell back a little bit," adding he's spent at least $2.5 million on jewelry.
It was in 2018 that he started to run into money issues. "I had bad management earlier," he said. "He was taking a lot of my bread, but I was making so much I didn't know. … They froze all my shit, people that I didn't even know I had to pay. I remember that day like yesterday, bro, it was around like March 2018. … I took out $100,000, I was flying to Cali, and I went to the bank again and it was on hold."
For about six months he was "broke." It wasn't anything to do with taxes, he said, and he placed blame on having "a lot of apartments" because "I don't like hotels." He had four spots in New Jersey, two in Miami, and a couple in Los Angeles. 
Time stamp: 36:00
In 2015, Drake hopped on a remix of Fetty's third single, "My Way." But the song was originally intended to be a Monty track featuring Wap, so when it released, Fetty was annoyed about that aspect. When it came to Drake's remix, Fetty even suggested his own verse get taken off so Monty could have a moment with Drake.
"I was real big-headed, man. One thing about me at that time, nobody could tell me shit," Wap said. "I felt like, I had a plan about how this shit was supposed to go. That was supposed to be Monty's record, Monty's breakthrough record." He described his plan as "an alley-oop," but it didn't work out.
"The first and last time I spoke to Drake, he asked me to get on the song, that was it," he explained. "Not even seen him in person yet." Wap said it was "my fault" how things went, but he was still "mad as hell" about how the situation was handled. "Then when I didn't put it on the album, [Drake] was probably like, 'Who the fuck he think he is?'" he said. There are no hard feelings now, and Wap still considers himself a Drake fan.
Time stamp: 42:00
Akademiks highlighted that Fetty Wap, sometime in 2015 and 2016, was working with a lot of rising rappers, many of whom were local to New Jersey. "I didn't have a manager at that time," he said, and added that he "barely took money for features" because no one local could afford him. At the peak of his popularity, he would typically charge $150,000 for a verse or hook.
"The most I got from a street n***a, a random person, was like $40,000," he said. "I put that shit up. I was a hustler, bro. I didn't think about being famous, I just wanted to keep making money. In my mind, I already knew some shit was ending. For everybody else, they were like, 'Oh he burned himself out.' For me, I was like…I didn't even think I was going to be here long, anyway. I only knew 'Trap Queen,' I was like, 'This is the one.' Everything else, I was just having fun, bro."
Fetty noted that his music quickly got bigger than himself. "I'm not a talkative person," he said, pointing out that he avoided interviews and publicity for the most part. Around 57:30 he revealed, "Half of the problem was me, I don't like to lie on people. It wasn't just the label." As far as interviews, he said, "I just didn't want to do that shit. … I didn't have to, my thing wasn't interviews."
Time stamp: 1:02:20
In 2015, Taylor Swift brought out Fetty Wap to perform "Trap Queen" during a Seattle show as part of her 1989 World Tour. 
"She's actually the coolest person I've ever met," he told Akademiks. "She's the reason I actually started paying attention to my camp. … We had a talk, she put me on this big-ass jet. Her jet is big as shit, it's some next level shit. I hope she don't get mad if I say this, but she broke down how she structured her life. She would take off all year to write her music, get in her zone." 
He added that when it comes to Swift's team, everyone has someone else making sure each person is doing their job. After taking off time to write new music, she would spend another year on promotional runs, tours, and all the other parts that come with dropping a new album. 
"I was like, 'Oh this makes a lot of sense, because I'm tired as fuck,'" he said with a laugh. "Since the day I came out, I just been running. No brakes, no watching this…money got fucked up." He noticed how small Taylor's entourage was in comparison to his, which made him realize he "was fucking up." 
Time stamp: 1:18:00
A defamation suit was filed against Fetty Wap and RGF Productions by his former assistant Shawn Morgan after she was laid off from the company in 2017. RGF, in a statement attributed to both Fetty and the company itself, accused Morgan of charging fees from both RGF and her clients, in this case Fetty. While RGF alleged the former employee stole money from them, Fetty settled out of court and told Ak she didn't steal from him.
"I figured my part out. … No, she never stole money from me," he said. "The way my name was worded in that particular statement is what got me sued. … I never said none of that shit." He didn't reveal the figure he had to pay to settle his side of the case, but he did want to settle "because of what it looked like."
In fact, he's actually on good terms with Morgan now, he added. "In my mind, I don't think she wanted to sue me."
Time stamp: 1:48:00
Young Thug and Fetty Wap worked on some music together, but most of it hasn't seen the light of day. They even recorded an album at one point, and Fetty recalled how Thug would "get mad" at him for not releasing new music.
"You know who used to get mad at me a lot? Young Thug. He used to be like, 'What the fuck you doing, slatt?'" The two still talk every now and then, and he said Thug jumped in his Instagram DMs recently to say, "'It's time again, we've been waiting.'" He added that Thug has frequently motivated him, and their collab album never emerged because they didn't quite get to finish it.
"We was in the studio together for a week straight," Wap said, noting this was around the time he had a broken leg. "It felt good to see someone with a lot more success reach out to me like, 'We miss you bro.'"
Time stamp: 1:50:00
During the interview Fetty remained noticeably humble, but he did give himself credit for one thing while also explaining he greatly benefited from the time at which he dropped his breakthrough song.
"Time moves on, bro. With time, people change, music change. Music has changed a lot since 'Trap Queen' came out," said Fetty, who thinks he'd be "done" if the song dropped in 2020. "There would be no Fetty Wap, I believe that. … I came in at a perfect time for new music, that's how I put myself. I credit my success for that era, because music was dying, bro. The only people who were holding shit at that time was me and [Bobby] Shmurda."
After the success of Fetty and Bobby, the flood gates opened for "internet rappers," and he credited himself for inspiring the wave of shorter rap chart toppers.
"I was the first person to make music a non-structured thing," he continued. "If you remember, it was like, verse, hook, verse…three minutes, four minutes, five-minutes songs and shit like that. When I came out, two minute songs. It was just like, 'Damn, we don't gotta make long songs anymore.' I made it short because I want y'all to keep playing it."
Wap feels like prior to his emergence, the majority of mainstream hip-hop releases ran longer. "That shit happened because of me," he added. "That was my era, that's the only thing I'll take credit for."
Time stamp: 2:02:00
Fetty Wap has made it clear he wants to remain in Paterson, New Jersey, even though he can afford to move elsewhere.
"I'm more scared to stay in the suburbs than I am the hood," he continued. "Where I'm from, I didn't build a bad name for myself. I built a really good name for myself, I've helped a lot of people, bro. … I do feel safer in Paterson. I'm in Paterson every day. … I'm a real solitary guy, I'm not cruising through everybody's hood. I don't wanna be, 'Oh, I could go on anybody block.' … I don't give a fuck about anybody's city, where I'm from is where I'm from."
Fetty said he's faced discrimination in the suburbs in ways he does not in Paterson, as all the police officers in his town know who he is. "I go to fucking Malibu or some shit, or even Los Angeles, I get pulled over everywhere I fucking go," he said. "I go to Miami, 'Oh, windows too dark, where's the gun and the weed at?' What? It's a profile thing, they automatically profile me. So I feel more comfortable in the 'nicer' places than I do in the hood."