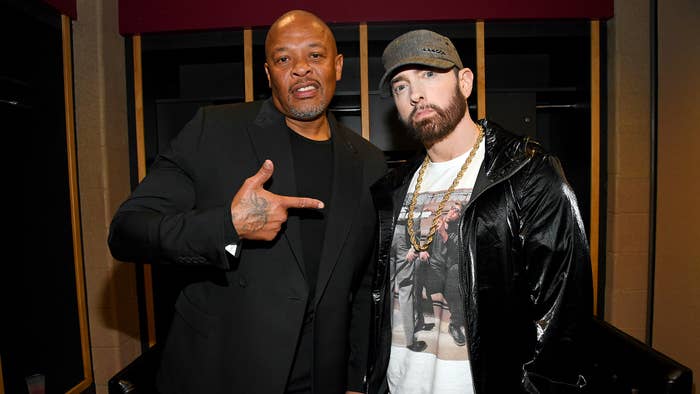 In a promo for his recent song with Snoop Dogg, Eminem admitted that he doesn't remember appearing in Dr. Dre's "Still D.R.E." music video.
Snoop and Em sat down for a chat to promote their song "From the D 2 the LBC," and the former asked the latter if he was "running on the beach" in the video for Dre's 1999 hit single. "Was I in that video?" said Em, who looked puzzled. "Why the fuck would I not remember? What the fuck? You gotta show me that shit because I don't remember."
The Hype Williams-directed video featured cameos not just from Em, but also Funkmaster Flex, Xzibit, and Warren G among others. 
"I don't even… Oh yeah!" he said after Snoop highlighted that he was chasing some women around on the beach in the video. "Okay okay, now I remember. I remember now. For some reason I was thinking 'Forgot About Dre,' like I pictured my performance in that." 
In another clip from the same talk, Snoop told Em that their collab "From the D 2 the LBC" actually "challenged" him as a rapper. "You put me back in my karate school days, where I used to be a young MC and love the challenge of having to try a new style or new cadence," Snoop said, after Em praised his verse. "You showed out, you definitely showed out," Em replied.
Check out what the two had to say above.